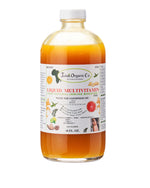 The most immediate and frequent question that comes to mind when one mentions supplements is if they work? And if they actually work, does my body want them? The main reason behind these questions is that most individuals are not aware of the effects multivitamin supplements have on our bodies, how they function, and why do our bodies require them. Here we will discuss what multivitamins are and what kind of benefits they provide.
As the name suggests, multivitamins are a group or mix of several different vitamin types that are necessary for the body to perform its regular functions. They play a vital role in the growth and development of our bodies. Eating a balanced diet is the proper way to make sure you are getting all the necessary vitamins regularly. However, due to demanding lifestyles and the scarcity of time, most of us fail to pursue healthy eating habits and do not intake a balanced diet every day.
This is where multivitamins come into the picture. Multivitamin supplements are vitamins in capsules, tablets, chewable, powders, or liquids. They all have the necessary vitamins and minerals that our body needs to carry out its daily functions smoothly. Since many people have a hard time swallowing pills and capsules, for them liquid multivitamin works conveniently. This is why liquid multivitamins have gained so much popularity in recent years.
Juka's Organic provides liquid multivitamins that can be easily absorbed and has no upsetting taste. Our liquid multivitamin contains Vitamin C and Zinc, which helps in boosting the immune system. Nutrients like Biotin, Vitamin E, and A present in our liquid multivitamin help strengthen nails, hair, and skin. It is sugar-free and has all the essential organic supplements that our body needs.
Liquid Multivitamins Work Faster
A pill or tablet needs to do a breakdown first in order to work. Even gel capsules need to be swallowed and digested for assimilation. But, a liquid multivitamin is much simpler to consume than a handful of pills or tablets. As it is already in liquid form, it doesn't need to break down by the body to be digested. As soon as you take it, it begins to get absorbed instantly.
Liquid Multivitamins are Healthier:
Chewable multivitamins can be fun, but they are not as good for the diet. This is mostly because, more often they have chemical, flavor enhancers, added sugar, and are much higher in calories. With pills and tablets, you need to absorb the casing first in order to start absorbing the nutrients. But with liquid multivitamins, the absorption rate is almost 98%. Since there is no casing or other fillers, through liquid multivitamins our body gets pure nutrients straight away.
Liquid Multivitamins are an excellent way to improve your immune system, keep your heart and digestive system healthy, and reduce depression and stress. If you want to buy
liquid multivitamin
, you can do that through our official website
www.jukasorganic.com