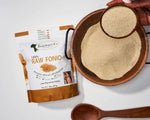 Fonio is an ancient grain that has been found in western African countries for over 5000 years. It is also a heritage grain with amazing health benefits. Though it is native to West Africa, it is usually enjoyed in the mountainous area countries such as Senegal, Guinea, Burkina Faso, Nigeria, and Mali. In a few parts of Tongo, Fonio is also used to prevent blood clotting after childbirth. It grows well, even in drought conditions and poor soil quality, where it can be harvested within six to eight weeks and can be stored for months without any pest infestation.
Fonio also makes amazing flour for bread and baked goods. It can be eaten both whole as a grain in the place of rice or you can combine them with other dishes. It has a mild taste with a hint of nutty flavor and absorbs the flavors of all those ingredients it is paired with. Juka's Organic provides organic and nutritional products like supplements, cooking oils, Fonio whole foods, and many more. To know about our amazing products, you can go through our official website
Benefits of Consuming Fonio Whole Foods:
Fonio is a valuable grain, ideal for a healthy and balanced diet. It is rich in protein, gluten-free, has all the necessary amino acids, good source of fibers, vitamin B, and minerals. Here are some health benefits if you add Fonio whole foods to your diet:
Since it is high in fiber, Fonio is an excellent aid for weight reduction. This grain can be easily digested and doesn't have many complex fibers that hurt our bodies. Fonio fibers help keep you full, subsequently play a major role in your weight loss journey. Also, since it has Vitamin B1, B3, and iron, it will keep you energized throughout the day.
Helps in Preventing Anemia:
Anemia also referred to as low hemoglobin, is a condition where you lack enough healthy red blood cells to carry adequate oxygen to your body's tissues, which makes you feel tired and weak. The high concentration of iron present in Fonio helps fight Anemia. Also, since it contains folic acid and other necessary amino acids, it helps women during their pregnancy.
Unlike other refined grains, Fonio doesn't cause spikes in glucose levels. It has a shallow glycemic index and assimilates into our body gradually. It also contains chromium, sulfur, and important amino acids that help control diabetes.
Juka's Organic is committed to bringing the best Fonio Whole Foods to your kitchen tables. Our Fonio grains are de-husked, thoroughly hand-washed, and naturally dried to preserve the most authentic and premium quality Fonio. So, if you want to buy Fonio, you can visit the official website of
www.jukasorganic.com