Store Locator
Find Us In Your Neighborhood
Locate Our Partners. Find A Store Near You That Sell Our Products! We Are Expanding, So Please Call Or Email Us To Suggest The Stores You Would Like Us To Partner Up With.
-Prices are subjected to change depending on store location
-Some stores only have our red palm oil in plastic bottles and not in glass jars (same premium quality just different packaging) If you have a preference please call to verify the packaging type.
Type Your Zip Code, City Or Sate Name In The Box Below For Store Locations In Your Area. 
Juka's Organic Partners
Thank You For Your Continued Support & Being Part of Our Story.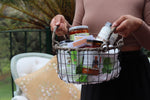 Its Is Not A Diet, It's A Lifestyle
Juka's Organic Co is here to provide you a healthy lifestyle. We offer great cooking oils, supplements and superfoods. We also have great beauty products to infuse with your skin care routines. We have more exciting news about this coming soon. For now, let's talk about some of the natural food and beauty products you can buy today to add to your health journey.
Juka's Organic Palm Oil, this is one of the purest and most organic and natural Red Palm Oil you can find any where in the world. This Natural Unrefined Organic Oil is Imported directly from the heart of Africa. We have earned a trust of every customer that has bough Juka's Organic Palm Oil from the past, and we will continue to do so because quality is our priority. We do not mix our Organic Palm Oil to Maximize Profit, we bring it to you at its purest. What you see is what you get our package is clear and our palm oil is red organic and pure! Buy Juka's Organic red palm oil today to get the nutritional benefits you deserve.
Don't forget to try our cold pressed coconut oil from Ghana, it is rich and taste just like fresh coconut. This is because it is cold pressed and unrefined. Not all coconut oil give you the health benefits you need. When you buy Juka's Coconut oil, you will know what sets our brand apart from the rest.
Juka's Organic Liquid Multivitamin Supplements is also another item to buy. It has lots of health benefits. It is also palatable, unlike many liquid vitamins. Our liquid multivitamin is filled with minerals (Traced and Macros), Amino Acid and many other macro nutrients that are essential to the body.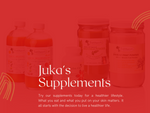 Learn More About Juka's Organic Co., Supplements
Juka's Organic Co. offers powder supplements, vegan liquid gels and liquid multivitamin with Baobab Powder. Juka's Organic Liquid Multivitamin is all natural and a perfect way to boost your immunity. Multivitamins are a great way to get a combination of many different vitamins that are normally found in foods and other natural sources.
Take advantage of Walmart's "Site To Store" Program. Go to walmart.com search for Juka's Organic., once you see a list of our products, you can order our products and choose Free Pickup during checkout. Choose the closest Walmart store to pick up your order from! You will Receive a confirmation when order is delivered to your Walmart store for pickup! Please be patient with us while Walmart add the rest of our products on their website. To order from Walmart,  please  Click Here. You can also buy our red palm oil, baobab fruit powder and the rest of our products from walmart.com and get it shipped to your mailing address if the items are on sale and the shipping fees are cheaper than our shipping fees. Juka's Organic superfoods are healthy foods that Africans eat daily as part of their daily food intake. We bring to you very authentic superfoods from many parts of Africa, such as Juka's Baobab Powder, Fonio and Juka's Organic Moringa Powder and much more. Check out one of our favorite wholegrain call fonio. Buy a jar of fonio and also check out our recipes for healthy breakfast and savory recipes
Stay Connected, we have a lot more in stores as we learn about our health conscious needs. Thank you for your support. And we are proud of you for taking the first step to healthy living.