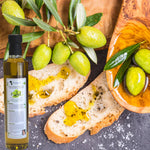 Olive oil may be considered a cooking staple and an essential ingredient in many healthy dishes, but studies have shown that olive oil also provides a lot of benefits to the skin. Olive oil is made by pressing the oil out of whole olive fruit. It is loaded with monounsaturated fatty acids, healthy fats, and antioxidants that fight free radical damage. Dermatologists suggest using good quality olive for verities of health and cosmetic benefits. Olive oil is among those high-performing plant oils that are praised for their emollient and moisturizing properties.
Juka's Organic offers people to buy good quality olive oil that is cold-pressed, nutritious, and especially rich in powerful antioxidants, Vitamin E, and K. From moisturizing dry patches on the skin to breaking down stubborn makeup, our extra virgin olive oil is brimming with benefits. Here are some of the popular skin benefits that you get if you use organic olive oil:
It is important to keep your skin hydrated, especially in the winter when the combination of hot and cold air can severely dehydrate our skin, and during summer to heal the damage done from the exposure to the sun. Applying olive oil to your face after your regular evening skincare routine can benefit your face significantly.
Olive oil is very good at breaking down waxy substances like waterproof eyeliner and mascara. With the presence of antioxidants, it moisturizes the area around the eye and nourishes the eyelashes the same way conditioner works on our hair. To remove your makeup, wet your face with warm water, rub some olive oil between your hands till it gets warm, and then massage it on your face for a minute or two. Use a cotton pad or face cloth to clean the face. Finish off by washing your face with your regular cleanser.
Due to the presence of vitamin E, polyphenols, and oleic acid, extra virgin olive oil is a powerful antioxidant. This helps in protecting from the attack of free radicals and therefore slowing down the process of ageing. Buy good quality olive oil from Juka's Organic, drop a little of it on a cotton pad and gently apply on a clean, dry face. The polyphenols and oleic acids will penetrate straight into the skin, slowing down the appearance of fine lines and the natural ageing process.
The anti-inflammatory properties found in olive oil can aid in healing certain wounds on the skin. The compound Triterpenes present in olive oil helps in many biological reactions that is necessary for healing wounds, such as cell migration, cell proliferation, and collagen deposition.
The olive oil provided by Juka's Organic is no ordinary oil. It is 100% pure, clean and obtained from the lands of North Africa. It has no additives, processing, flavorings, or GMOs.
So, if you want to buy good quality olive oil follow this link:
https://jukasorganic.com/products/buy-extra-virgin-olive-oil-16oz