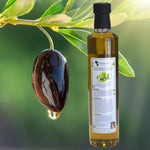 People use cooking oils regularly to prepare all sorts of dishes including meat, vegetables, eggs, sauces, and certain grains. Considering that they are such an integral part of the diet, people mostly focus on choosing the oil that is most healthy. With so many options of cooking oil to choose from, it can be overwhelming to choose the one that is right for you. The most important thing to consider when choosing cooking oil is its smoke point (the temperature at which the oil starts burning). When the oil is heated past its smoke point, it can lose nutrients, and flavor, and even release harmful molecules called free radicals. Here are the top healthy cooking oils that you can use every day for a healthier diet:
Olive oil has been the most sought cooking oil in kitchens across the globe. Along with being versatile, it has a subtle grassy or peppery flavor, and you can use it for sautéing, baking, salad dressing, and many more. Juka's Organic provides extra virgin olive oil that is rich in Vitamin E and antioxidant properties. The primary fatty acid present in olive oil is oleic acid, which has been shown to have anti-cancer and anti-inflammatory properties. These anti-inflammatory properties help prevent LDL or bad cholesterol from oxidizing. Extra virgin olive oil also contains compounds that are good for heat and may help conditions such as obesity, type 2 diabetes, metabolic syndrome, etc.
Regular coconut oil may not be considered a big healthy cooking oil alternative, but cold-pressed coconut oil provides immense health benefits. The coconut oil that Juka's Organic provides is 100% natural, organic, extra virgin, gluten-free, dairy-free, and doesn't have any preservatives. The Medium Chain Triglyceride (MCT), Lauric acid, and Caprylic acid present in coconut oil help boost metabolism. It has good fatty acids and saturated fats that help remove the fat build-up from the blood vessels and keep us feeling full for a long time.
Organic red palm oil is a good source of vitamin E and carotenoids, which act as antioxidants that prevent cell damage. The vitamin E content also keeps our immune system in good condition and reduces the risk of certain forms of cancer, heart diseases, and a few age-related macular degenerations. The antioxidant properties help prevent atherosclerosis or the narrowing of blood vessels. Also, it may be able to reduce the progression of Alzheimer's disease and dementia because vitamin E protects the brain from free radicals.
Juka's Organic provides many organic products, including cold-pressed, unprocessed, and extra virgin olive oil. We have partnered up will women farmers from North African villages who traditionally prepare our products. If you want to buy high-quality olive oil, cold-pressed coconut oil, or organic red palm oil, follow this link: https://jukasorganic.com/products/olive-oil-25oz-coming-soon