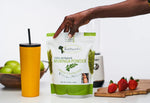 For those who don't know, Moringa is a tree that has been used for centuries for its amazing health benefits. Moringa powder is made from dried leaves, which are packed with essential nutrients and antioxidants. You can commonly find Moringa in many skin care products such as skin creams, shampoos, conditioners, perfumes, etc. Experts call Moringa Powder a superfood as it is packed with the goodness of vitamins, amino acids, minerals, and moisturizing fatty acids. These entire elements make Moringa powder very effective when it comes to skincare.
Juka's Organic provides the best Moringa powder that is imported from the wilds of Africa. Along with having many skin benefits, our moringa powder is also used to treat various illnesses such as diabetes, malaria, typhoid fever, hypertension, etc.
Skin Benefits of Moringa Powder:
Moringa powder has many skin benefits, including vitamin A which helps build collagen which is an important component that the skin is made of. It also has vitamin C and E which fights the signs of ageing and has anti-inflammatory properties respectively. Here are more useful benefits of adding the best Moringa powder to your skincare routine:
Moringa powder can help slow down the signs of ageing. It helps in rejuvenating the skin if it is dull and dry. As it is loaded with antioxidants, it helps in preventing free radicals. This is very crucial as free radicals harm the skin tissues, which leads to wrinkles. The best Moringa powder has enough vitamin C to help in repairing damaged skin cells. Also, it has chemical called cytokinins, which boosts cellular growth on the skin and prevents cell destruction. The antioxidants present in Moringa powder help in protecting the skin from harmful ultraviolet rays of the sun. So, by Moringa powder, you can say goodbye to sagging skin.
Good for Lips and Wounds:
As Moringa powder has amazing moisturizing properties that are very good for the skin. This is why it is a key ingredient in many lip balms and lip creams. The antiseptic properties of the best Moringa powder are very beneficial in case of cuts, wounds, bruises, abrasions, rashes, burn marks, skin infections, sunburn marks, and insect bites.
Helps Treat Acne and Dark Spots:
The antibacterial properties of Moringa powder help in preventing acne breakouts on the skin. It also helps in removing dark spots, blemishes, pimples, and blackheads. Applying Moringa powder paste on the face helps in achieving clear skin. Also, consuming Moringa powder can help in purifying the blood and removing toxins from the body. These toxins get accumulated and give rise to pimples and acne. Plus, Moringa helps in reducing open pores on the skin and as it boosts collagen production, the skin is tightened and pores are reduced.
Juka's Organic has partnered up with women farmers from the villages of Africa to bring you authentic and best Moringa Powder. If you want to buy some, follow this link: https://jukasorganic.com/products/buy-moringa-powder-12-8oz