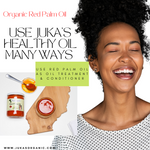 For those who are regularly concerned about the breakage of hair, it seems like a constant search for ingredients and products that will make the hair thrive. Red Palm oil is one of the newest products that seem to be doing well with hair. The organic red palm oil gets its color from the same carotenes as sweet potatoes and carrots i.e. alpha-carotene, beta-carotene, and lycopene. These carotenoids also contribute to a lot of health benefits for the body and hair.
The red palm oil provided by Juka's Organic is loaded with antioxidants and phytonutrients such as tocotrienols, phytosterols, tocopherols, squalene, and coenzyme Q10, all of which have excellent nutritional qualities. Our red palm oil products are easy to consume, have no added preservatives, and are BSE-free.
Benefits of Organic Red Palm oil for Hair:
There are many benefits of using Juka's Organics' red palm oil for your hair, some of which are:
Organic red palm oil is packed with antioxidants and rich in vitamin E, which benefits the hair by promoting the cell growth of hair follicles. This results in stronger hair. The carotenes that give the red palm oil its color also help with hair growth and prevent hair from getting weak and brittle.
Organic red palm oil also contains fats and lips that keep the hair and scalp moisturized and restores the hair's natural oils that certain shampoos may strip. It also has vitamin A and E, which have excellent moisturizing and soothing properties.
Red palm oil has vitamin E and tocopherol that help shield the scalp from sun exposure. Also, the antibacterial properties may help the scalp decrease inflammation and create a healthier environment for hair growth.
How to Use Organic Red Palm Oil for Hair:
You don't have to use a lot of red palm oil to get its benefits, as a few times a week is more than enough. You can use Juka's Organics' red palm oil for better results. 
Pre-Shower Treatment Mask:
Before showering, use the red palm oil as a hair mask before your regular hair wash routine. Rub a small amount of organic red palm oil through your hair, starting at the roots. Let it sit for about 10 – 15 minutes and then rinse properly.
Organic red palm oil also makes a great hair conditioner that helps in reducing hair breakage and split ends. Use it as an overnight leave-in conditioner by taking a dime-sized amount and rubbing it into your hair. You can sleep through the night with it being applied to your hair and you don't even have to rinse it out. But you will have to wear a shower cap and hair wrap and use dark pillows to avoid staining your sheets and pillowcases. Better yet, you can simply just add two spoons to your hair condition and leave it in your hair for 10mins or longer then rinse it out few times with warm water. This will keep your scalp and hair healthier than ever.
 At Juka's Organic, we have different versions of red palm oil such as capsules, soaps, cooking oil, etc., which you can buy according to your preference. If you want to buy the best organic red palm oil, click here: https://jukasorganic.com/collections/buy-red-palm-oil