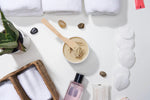 Nobody wants to have a dry and flaky skin complexion that feels itchy and tight. It is even more frustrating if your foot skin is dry and cracked, which can also lead to pain, discomfort in walking, and foot infections. Most people who live in dry climates suffer a lot of cracked heels, which can affect their confidence. If you are someone who frequently gets cracked heels, it is now time to reform your foot care routine and use ingredients that are beneficial and take good care of the heel skin. One such fantastic natural ingredient that has excellent healing and moisturizing properties is African Shea Butter. It is a skin super food that is made from the nut of the African tree Vitellaria Paradoxa.
The African Shea Butter Provided by Juka's Organic is packed with nutrients and antioxidants such as vitamin A, E, polyphenols, phytonutrients, etc. These ingredients make our Shea Butter anti-inflammatory, which works well at moisturizing and soothing all types of skins. It is prepared through the cold-pressed method, without any additives or chemicals, which is why it makes an essential ingredient for treating cracked heels.
Why African Shea Butter is good for Cracked Feet:
Here are some of the benefits of using Juka's Organics' African Shea Butter for cracked feet or heels:
Excellent Emollient:
Shea Butter is loaded with fats that make it an excellent emollient and skin moisturizing agent. It moisturizes the dry skin and gives relief. The oils present in the African Shea Butter get quickly absorbed into the skin of your foot and create a smooth and soft barrier that seals in the moisture.
Amazing Anti-Inflammatory Properties
Studies have proven that African Shea Butterhas amazing anti-inflammatory properties, which helps in reducing the redness of dry, cracked feet. Shea butter also helps in calming the itchiness and relieving walking discomfort, which makes it very useful for foot skin.
Rich in Anti-Oxidants:
Juka's Organics' African Shea Butter is rich in essential fatty acids along with vitamin E and A, which are prominently known for maintaining the elasticity and suppleness of our skin. It also protects our skin from the sun's harmful radiation including UVA, UVB, IR, etc.
Excellent Skin Smoothening Properties:
Shea Butter helps in promoting the skin's natural collagen production. It contains oleic, stearic, palmitic, and linolenic acids that nourish the skin and prevent it from drying. When used for a long period of time, African Shea Butter has shown amazing skin softening and soothing properties.
Juka's Organic has partnered up with women farmers from the villages of Africa to bring you the best quality Shea Butter. If you want to get all these and many more health benefits, buy African Shea Butter here: https://jukasorganic.com/products/buy-african-shea-butter