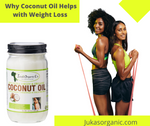 Coconut oil has been used as cooking oil, skincare, and hair care oil since ancient times. Recently, coconut oil is growing in popularity as a fat burner. People who are following a ketogenic diet have started using organic extra virgin coconut oil in their morning drinks and other everyday food items. While coconut oil has been there for us all the time, now it is in high demand due to its ability called ketosis, which keeps the body in a fat-burning state.
Juka's Organic imports authentic and unprocessed extra virgin coconut oil from the wilds of Africa. It contains a type of good fat called medium-chain triglycerides (MCTs), which also helps in losing weight. More than 50% of the fat from coconut oil comes from these MCTs, along with the presence of lauric and caprylic acids that help boost metabolism and other health benefits. Here are a few ways organic extra virgin coconut oil can help you lose weight.
The saturated fatty acids present in coconut oil keep it stable even at high temperatures, making it an ideal oil for cooking. But it is also to be noted that unlike canola oil and soybean oil, coconut oil has a relatively low smoking point. So, except for deep frying, you can replace your traditional cooking oils with this MCT-rich organic extra virgin coconut oil. You can add this oil to make curries and stews, or drizzle it on your soups and salads. You can even add coconut oil to boiling rice to reduce your overall calorie intake.
By replacing your regular cooking oil, you can easily bake cookies cakes, and brownies using coconut oil. But, make sure to allow milk and the eggs to come to room temperature before adding coconut oil to avoid clumping of the batter. You can also marinate the meat with your spice mix and coconut oil before baking. Studies have found that due to the presence of high amounts of saturated fats, adding coconut oil to food increases the volume of the stomach, making you feel fuller for a longer time.
Using coconut oils in drinks is one of the most popular ways to include it in your diet for weight loss. You can add 1 – 2 teaspoons of organic extra virgin coconut oil to your regular drinks such as tea or coffee, smoothies, or even plain hot water. With coconut oil, you can make the famous bulletproof coffee or a coconut matcha latte.
Eating a Spoonful Every Day:
Although coconut oil curbs your appetite, it still contains calories due to the presence of saturated fats. So, for starters, you should consume one tablespoon of organic extra virgin coconut oil a day to reap its benefits. This practice will help decrease inflammation and improve HDL cholesterol levels, which protects our hearts from diseases.
Juka's Organic has women farmer partners from the villages of Africa, who use traditional methods to produce coconut oil. If you want to buy the best quality organic extra virgin coconut oil, click here: https://jukasorganic.com/products/buy-extra-virgin-coconut-oil