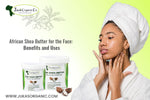 Shea butter is the fat extracted from the nuts of the Shea tree that typically grows in the African regions. It is off-white or ivory in color and has a creamy consistency that can easily spread on the skin. The presence of a high concentration of fatty acids and essential vitamins makes shea butter an ideal ingredient for many cosmetic products. Using shea butter on your face and body can help condition, tone, and soothe the skin. Here are some amazing properties of African Shea butter:
Anti-inflammatory and Healing Properties:
African shea butter has been proven to have extensive anti-inflammatory and healing properties. When you apply shea butter products on your face, it can help calm redness and swell efficiently.
The rich tree-nut oils present in African shea butter can soak easily into your skin, creating a smooth and soft barrier on the face that seals in moisture. This moisturizing effect of shea butter can last several hours.
The vitamin A and E present in African shea butter not only soothes the skin but also makes it look younger and healthier. It has the ability to promote the regeneration of cells and helps in decreasing fine lines and wrinkles. Its amazing collagen-boosting properties will provide you with plump-looking skin.
How to Use African Shea Butter on your Face
The easiest way to use African shea butter for your face is by applying it directly to your face before you go to sleep. You can apply it in the morning, but it might take some time to get used to it. You can also make a facial mask using African shea butter and several other useful ingredients.
Ingredients to make African Shea Butter mask:
1 tablespoon of raw honey
3 – 4 drops of grape seed oil
1 tablespoon of pure African shea butter
Mix all these ingredients to create a paste-like texture. Wash your face with a cleanser and apply the paste over your face. Leave the mask for 10 – 12 minutes before gently cleaning your face with a cleanser or warm water and a soft washcloth.
Buying the Best Quality African Shea Butter:
Juka's Organic is proud to present you with our African Shea Butter that is full of essential nutrients, vitamins, polyphenols, and phytonutrients. It has been known to treat wrinkles, blemishes, eczema, burns, dermatitis, and even stretch marks. We have partnered up with women farmers from the villages of Africa who use traditional methods to derive the shea butter. Visit our website to buy the best quality shea butter and also check out different organic products and superfoods that we provide.