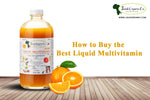 Liquid multivitamins have evolved as a practical and efficient solution to enhance general wellness in response to the rising demand for health supplements. Liquid multivitamins offer improved absorption and simplicity of use compared to conventional pills. But sifting through the available options to discover the finest liquid multivitamin might be challenging. To help you buy the best liquid multivitamin for your needs, we'll go over the important variables to take into account in our extensive guide.
Choose Your Health Goals
Before stepping into the realm of liquid multivitamins, establish your health objectives. Are you looking to improve your energy levels, maintain your bones' health, or address any inadequacies specifically? You can buy the best multivitamin that meets your needs by being aware of your goals.
Verify the Nutrient Content
A liquid multivitamin should provide a range of important elements. Look for a product that contains a full complement of B-complex vitamins in addition to vitamins A, C, D, E, and K. Additionally, these must contain important minerals like calcium, magnesium, zinc, and iron. Check to see if the amounts of each nutrient are equal to or greater than the recommended daily allowances (RDAs).
Take bioavailability into account
Buy the best liquid multivitamin that contains bioavailable vitamins and mineral forms. The term "bioavailability" describes how well the body can absorb and use the nutrients. To maximize the advantages of the supplement, choose chelated minerals or active vitamin forms for improved absorption.
Quality and Purity
Prioritize quality and purity whenever you buy the best liquid multivitamin. Look for goods produced by reliable companies that are known for upholding high manufacturing standards. Check for certifications from unbiased testing agencies as these attest to the product's high caliber and security.
Check for Additives and Allergens
Look over the product's label to make sure there are no artificial sweeteners, flavors, or colors present. If you have sensitivities or dietary restrictions, you should also look for potential allergens like gluten, soy, dairy, or nuts.
Research on Reviews
Reading customer reviews might give you useful information on the potency and flavor of the liquid multivitamin you're thinking about buying. To evaluate the overall satisfaction and effectiveness of the product, read user evaluations and endorsements.
Understand the Recommended Dosage
Be mindful of the liquid multivitamin's recommended dosage. Some products could need many servings each day, while others might deliver the entire dosage in a single meal. Choose a course of action that complements your tastes and way of life.
Examine the reputation of the brand
Look into the brand's reputation and background in the dietary supplement sector. Look for openness, assistance for customers, and a dedication to producing high-quality items. To buy the best liquid multivitamin, remember that supplements from trustworthy brands are more likely to have favorable customer reviews and testimonials.
Consult a Medical Professional
Before incorporating any new supplement into your daily routine, seek advice from a healthcare professional. They can assess your specific health needs and recommend a liquid multivitamin that complements your diet and lifestyle.
Why Buy From Jukas Organic?
You should carefully examine your health objectives, nutrient content, bioavailability, and product quality while selecting the finest liquid multivitamin. Jukas Organic, with extensive experience in this sector, has products that fit your dietary preferences and limits. By getting tailored products from us, you can make sure that the liquid multivitamin you choose will improve your general health and well-being. To buy the best liquid multivitamin, visit our website or click on the link - https://jukasorganic.com/products/buy-liquid-multivitamin