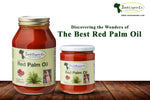 Red palm oil is a well-known product in West Africa. The women farmers from the western part of the continent toil hard to produce red palm oil in huge quantities, keeping its quality intact. You will be amazed to know that red palm oil is being used in the preparation of subtle foods like ice-creams. Red palm oil is produced from both the seed and flesh of the fruit of the African oil palm. The production of red palm oil has seen an abrupt rise over the past few decades.
Authentic red palm oil has numerous benefits:-
Boosts immunity –Red palm oil is known to boost immunity since it is rich in Vitamin E and carotenoids that act as antioxidants and help in establishing proper communication between cells. Statistics show that getting enough vitamin E in your diet diminishes the risk of cancer, heart disease, and age-related muscular degeneration. Juka's Organic produces organic red palm oil in its pure form and provides it to its customers at affordable costs. Original red palm oil is deep red in color and is manufactured by women farmers who hold associations with Juka's Organic Co. Buy our organic red palm oil and get benefitted from it. Our red palm oil is authentic and consistent in quality. It is unrefined and present in its purest form.
Nourishes the scalp – Juka's Organic red palm oil acts as a natural conditioner for your hair and gently nourishes the scalp. Organic red palm oil has immense benefits for your hair. You can apply it to your hair after shampooing and washing it 2-3 minutes later. It prevents your hair from getting entangled and reduces split ends. It can be used as a pre-shower treatment mask. Before undergoing your regular hair wash routine, take a small amount of the red palm oil and apply it to your hair. After 10-15 minutes, rinse thoroughly. Your hair will appear shiny and smooth after undergoing this hair care routine for some days.
Healing cooking oil –Include red palm oil in your savory recipes. You need not be an expert in cooking for doing so. Just include 2 teaspoonfuls of it in every savory item you cook. Red palm oil is nutritious enough and should be included in your diet daily for propergrowth and nourishment. If you are suffering from a prolonged disease due to a deficiency of vitamin A, buy organic red palm oil and make it a part of your diet. You will be surprised to know that you will be healed in no time. Africa is well-known to use organic red palm oil as a healing oil. Our unrefined red palm oil contains a potent anti-oxidant that is rich in phytonutrients. The ancient civilizations have used red palm oil as a healing oil. The oil gets its color from carotenes such as alpha-carotene, beta-carotene, and lycopene. These carotenes are mainly found in sweet potatoes and carrots.
Prevents heart-related diseases – The presence of vitamin E and carotenoids in red palm oil prevent the narrowing of blood vessels. Thus, the organic red palm oil has a positive impact on our circulatory system. It also leads to better heart health. Studies have shown that consuming minor quantities of organic red palm oil helps prevent heart diseases. A person suffering from heart ailments must consume one or 2 tablespoons of organic red palm oil by including it in the foods taken. For growing infants, half teaspoonsfulis recommended to be included in the diet for gaining/absorbing essential nutrients.
Improves brain health – Besides improving heart-health, organic red palm oil has its effects on brain health too. If patients suffering from Dementia or Alzheimer's disease include organic red palm oil in their regular diet, they will get cured eventually with time. The presence of vitamin E in red palm oil safeguards the brain from free radicals, which has the capacity to damage brain neurons.
Juka's Organic's red palm oil is ethically sourced and rich in phytonutrients. It has its roots in West Africa and the women of that part are proud of their commitment and devotion to the production of pure virgin red palm oil. You can trust our product if you are genuinely interested in purchasing red palm oil in its purest form. Consider the health aspects of the oil before buying it and make sure that the oil is ready for use. We recommend you not to pick any random organic red palm oil from the market. Buy organic red palm oil from Juka's Organic which is GMO-free, gluten-free, and keto-friendly. Our oil is naturally produced and sold in glass jars. https://jukasorganic.com/collections/buy-red-palm-oil