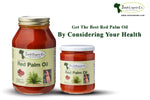 Palm Oil is one of the most versatile food products all over the world. It is used to prepare meals and also as an ingredient in margarine, ice cream, and many other foods. Red palm oil in particular is made from the fruit of the African oil palm tree, both from the seed and the flesh. This substance has been used for thousands of years now. The red palm oil removes fewer nutrients which makes it a potential, healthy alternative to standard palm oil.
When you consume any food, it's important to know its benefits, considering its effect on your health. This blog will help you by providing information about the best red palm oil and it also acts as an eye-opener for you to identify the health benefits provided by red palm oil.
Red palm oil is mainly a source of Carotenoids and vitamin E, which act as antioxidants in your body to help you from cell damage. Getting enough vitamin E also helps your cells to communicate and keep your immune system in good condition and it also can reduce your risks of certain forms of cancer, heart disease, and age-related macular degeneration.
 Benefits of Red Palm oil -
Red palm oil is a great source of antioxidants and nutrients with many other health benefits that are listed below:
The best red palm oil can offer significant benefits to your heart health with the antioxidant effects of vitamin E. The carotenoids in red palm oil help to prevent atherosclerosis or narrowing of the blood vessels.
Red palm oil also offers many brain benefits. The vitamin E in red palm oil helps to reduce or halt the progression of dementia and Alzheimer's disease due to lesions on the brain. Vitamin E also protects your brain from free radicals, which can damage your neurons.
Studies say that getting enough oil in your food can help you absorb vitamin A and other fat-resolvable vitamins more effectively. For a person having cystic fibrosis or another condition that makes their fat absorption difficult, the addition of red palm oil in their diet may significantly improve their levels of vitamin A according to the needs of their body. Vitamin A is also helpful to the health of your eyes, so red palm oil can help to reduce your risk of vision problems.
Better skin and hair health:
The high levels of vitamin A and vitamin E in red palm oil can be very beneficial for healthier skin and hair growth. Vitamin E provides natural antioxidants, which have positive effects on your scalp and hair. It can also help to reduce the amount of oxidative stress and free radicals which is a reason for scalp breakdown.
Vitamin A is majorly known to be important for a well-functioning immune system, and red palm oil is the best option that helps to meet your every requirement related to vitamin A.
Provides anti-inflammatory effects:
It has been studied that the carotenoids in red palm oil may have anti-inflammatory properties, which potentially reduce the risk of chronic inflammation-related diseases.
 When it comes to using red palm oil, it is advisable to choose sustainably sourced and certified products, which have been produced with environmental and ethical considerations in mind.
 How red palm oil is manufactured by Juka's Organic?
Our Juka's Organic red palm oil is 100% natural and authentically harvested from villages in Africa. All of our products are gluten-free and keto-friendly. It is not reproduced or replanted as the Red palm oil is endemic to the land of Africa. We use the same traditional method to produce the oil that our ancestors have used for centuries as we stand against deforestation. Our workers wait for Mother Nature every 3 months to harvest the palm fruit to then make the oil out of it which tastes so pure and authentic. Juka's Organic Co. has partnered up with women from Africa's small villages to exclusively supply their hand-selected and unrefined sustainable organic red palm oil. Palm trees have been part of West Africa for centuries. Each generation of women produces palm fruit oil as their main source of income.
Our red palm oil is purely red in color and also has a nutty flavor. Red palm oil comes out red as the land of Africa is indigenous for Red palm oil. We produce the best red palm oil harvested by our African women partners to bring the best taste and quality to you.
To get the best red palm oil, you must check out Juka's Organic Co. website. Juka's Organic Co. is one of the leading suppliers of natural food products in the USA. We are liked by our consumers for producing the best red palm oil with sustainability, authenticity, and premium quality. Our natural unrefined red palm oil is directly imported from Africa.