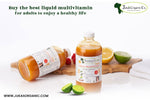 Taking multivitamins is one of the most convenient ways to fulfill the daily nutritional requirements of the body. If we say that we have an organic multivitamin that is good in taste, ethically sourced, and free of gluten and sugar, can you believe it? Yes, you read it right. We have a multivitamin that provides all the macronutrients the body requires. It is a potent nutritional tonic for your body.
Enriched with essential supplements and qualitypackaging
We at Juka's Organic made this product by taking care ofall the vital nutrients your body requires. This is the best liquid multivitamin for adults, as it has aloe vera,natural zinc, vitamin C, and Baobab fruit, the superfood of Africa. Our liquid multivitamins are one of the best choices to add to your everyday food intake. We pack the tonic in glass bottles to keep them safe from plastic leaching so that you can get their original taste and goodness.
As your health matters the most, it has all the necessarynutrients that help boost your energy and immune system, and improve your digestivesystem, and provide natural shine and nourishment to the skin and hair. To make it a part of your daily diet, we have carefully prepared this natural elixirthat tastes delicious. It has potent staminaboosters like amino acids, minerals, and biotin, along with vitamins C,D, and E. It has noni juice with a vanilla flavor.
Why liquid multivitamins?
Liquid multivitamins can be consumed easily. Children and adults find it difficult to swallow multivitamins in capsule form.Being in liquid form, our tonic does not need to be broken down to get absorbed in the body. People with digestive issues can find it more efficient than taking solid pills.Its liquid form allows us to make adjustments to dosages. With liquid multivitamin, it is easy to see how much is required.Its liquid form helps it maintain its natural goodness. It has no side effects or allergic reactions, unlike tablets and pills.Its delicious flavor makes it easy to consume with any liquid beverage or smoothie.
Several health benefits if consumed regularly
With baobab, aloe vera, and noni juice, it has a richamount of vitamin C, which strengthens the immune system. It helps in therebuilding of cells with natural chromium, the mood booster,folate, B6, B12, and D3. Filled with antioxidants, soluble fiber,magnesium, and iron, this liquid multivitamin rebuilds energy. Drinking plentyof water and doing exercise daily can maximize its benefits.
It can be consumed in multiple ways
Since our multivitamin tastes great, it is the best liquid multivitamin for adults and kids. Everyonecan enjoy it. It can be consumed by mixing it with water, juice, smoothies, yogurt, or any of your favorite foods. Adults are advised to take 2 spoons, while ½ spoon will be enough for children. You can also add this toyour oatmeal or any other cereal breakfast or salad. From children to senior citizens, anyone can have this energy drink in whatever way they like.
A reliable choice for customers       
We have been sincerely serving customers across the globesince 2013. We are committed to using authentic organic products without anyadditives that are made with natural ingredients to ensure you get the bestquality multivitamin.
Juka's has partnered with West Africa's village women to ensure the purity of the product with naturally harvested ingredients. These village women are the experts at harvesting natural products. This is our small effort to make them financially independent.
We are proud to say that we provide the
best liquid multivitamin for adults
and children. It's gluten-free, GMO-free, organically made, diabetic-friendly, and has zero additives. Suitable for all age groups.We have received thousands of positive reviews from bothnew and old customers. Take a step ahead towards a healthy lifestyle.