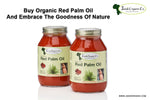 Palm oil is acclaimed as a widely popular edible product around the globe. Starting from meal preparations to being used as the primary ingredient in edible vegetable oil, an important ingredient for margarine preparation, and a supportive ingredient to make foods like ice cream and other snack items, it is one of the most in-demand food products. Made from African red palm seeds and flesh, this oil has several health benefits.
Humans have been using this potent oil for thousands of years; however, the production of palm oil has risen over the past few years. While general refined vegetable oil has less to no benefits in general due to bleaching, Juka's Organic's red palm oil is enriched with nutrients that make it a healthy choice for refined palm oil.
Variety of usage
Palm oil is being used widely in cleaning and personal care products. Its foaming agents help in making shampoo, soaps, and detergent. It has also been used for making makeup products and lotions. It's a great source to produce biofuels. Therefore, it has become popular and in demand as it helps to maintain a pollution-free environment.
Why Juka's Red Palm Oil?
Whenever an edible food becomes universally popular, it is crucial to know its health benefits. We at Juka's can proudly say that if you buy organic red palm oil from us, it will provide you with all the essential nutrients you want. Our organically sourced red palm oil is a rich source of vitamin E, carotenoids, lycopene, alpha-carotene, and beta-carotene. These nutrients help prevent cell damage. Getting a good source of antioxidants and vitamin E helps the cells keep the immune system in proper condition. Studies indicate a vitamin E-rich diet can reduce the risk of macular degeneration due to aging, cardiac disease, and certain forms of cancer. All essential vitamins, such as A, E, and D, tocopherols, phytosterols, and tocotrienols, are present in our organic red palm oil, helping us to stay healthy.
What are the potential health benefits?
Red palm oil has an abundance of nutrients and antioxidants. Its primary phytonutrients are trocotrienols and mixed carotenes, which give it a rich red color and make it rich in iron, vitamins, and minerals. An analysis of several studies has suggested that LDL, or levels of bad cholesterol, were visibly lower in individuals following diets that are rich in palm oil. Furthermore, a 3-month-long study published in 2016 indicates that organic palm oils have cholesterol-lowering effects. Below are the potential health benefits of consuming organic red palm oil, which helps to keep major organs healthy.
It keeps the heart healthy.
If consumed as required, our organic red palm oil will provide visible benefits to the heart. The goodness of the antioxidants present in red palm oil helps prevent the narrowing of the blood vessels in the heart. If you or someone you know wants to keep a healthy heart, you must buy organic red palm oil from Juka's Organic.
It aids in brain health.
The presence of vitamin E helps to slow down the progression of Alzheimer's and other brain-related diseases due to any kind of past brain injury.
It supports eye health.
Studies support the idea that getting the needed amount of oil in a daily diet can help absorb elements like vitamin A and other vital nutrients effectively. For anyone with cystic fibrosis or any other health condition that makes fat absorption difficult, adding palm oil to their everyday diet may significantly improve vitamin A levels in the body. As vitamin A is crucial for eye health, anyone with vision problems must consume Juka's red palm oil.
What makes Juka's Organic different?
Our 100% sustainable and ethically harvested products are purely organic. We take the utmost care to preserve its organic value, starting from cultivation until its delivery. We provide gluten-free, non-GMO, and keto-friendly products. As the red palm oil is native to Africa, our village women partners are experts in keeping its authenticity intact. They wait till Mother Nature makes the palm fruit ready to harvest every 3 months to make the red palm oil using the same traditional method that has been in use since ancient times.
With a plethora of goodness, Juka's organic red palm oil can benefit individuals of any age. Our making process is what makes it special. Our women partners from villages in West Africa cultivate and harvest the red palms in an organic method, and to retain their freshness and potential value, we pack them in an airtight glass jar for you to utilize their effectiveness, which also makes us play a small part in keeping the environment plastic-free. We have now let you buy organic red palm oil as per your choice, at different prices and sizes, so that anyone can discover what sets us apart from our competitors. Consider the goodness of authentic red palm oil before buying any ordinary oil.