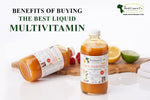 Vitamins and minerals form an essential component of the human body. They are necessary for the proper functioning of the skeletal system, digestive system, circulatory system, and immune system. Lack of nutrients could result in a malfunction of any organ or a prevailing disease. For example, lack of Vitamin A causes night blindness. To improve your eyesight and to enable yourself to see properly at night time, intake of vitamin A is mandatory.
Vitamins in the form of liquids are more readily absorbed in our body than vitamins in solid form. Hence, it is recommended to consume vitamins in the form of liquids rather than solid pills. Juka's Organic brings to you one of the best liquid multivitamins that get easily absorbed in your body. The liquid multivitamin is sugar-free, gluten-free, sustainable, and ethically sourced. It contains amino acids, zinc, macro minerals, trace minerals, Vitamins C, D, and E, Baobab powder, 100% Noni juice, and natural Aloe Vera. The women farmers of West Africa burn the midnight oil to arrange the raw materials needed for the preparation of the liquid multivitamin. One of the most sought-after products needed for the preparation of the liquid multivitamin is the Baobab fruit.
The best liquid multivitamin possesses the capacity to cure any chronic illness if the vitamin is taken regularly. Some of the benefits of the best liquid multivitamin provided by Juka's Organic are:-
Rich source of protein – Protein is an essential nutrient for growing children as well as adults who are in the growth phase. The delicious liquid multivitamin is a rich source of protein and helps in the growth of our body by providing the nutrient in ample quantities. Protein is mainly found in non-vegetarian foods such as eggs, chicken, meat, and fish. The best liquid multivitamin contains amino acids in meager quantities and has a great impact on growing infants.
Rich source of vitamin C – Vitamin C is mainly found in citrus fruits. However, traces of vitamin C are retained by the palatable liquid multivitamin that keeps diseases like Scurvy at bay. A person suffering from Scurvy has blisters on the tongue, bleeding gums, loosened teeth, dental issues, and bleeding under the skin. Our best liquid multivitamin is sure to benefit the one suffering from scurvy and heal the person with the passage of time.
Contains micro and trace minerals – Micronutrients such as zinc, magnesium, and iron are present in small quantities to help prevent diseases that occur due to the insufficiency of these nutrients as a whole. The deficiency of iron can cause anemia and is prevented by the intake of the vitamin in regular doses. Pale skin is one of the symptoms of the disease. Those suffering from emotional disturbance, dermatitis, night blindness, poor appetite, delayed wound healing, and increased blood ammonia levels will heal over a certain duration of time if they consume the best liquid multivitamin.
Contains Biotin and Baobab powder – Biotin is a B complex vitamin (vitamin B7) found in eggs, milk, and bananas. The liquid multivitamin provided by Juka's Organic is rich in Biotin. Those who have Biotin deficiency suffer from thinning of hair, brittle nails, and red rashes in the skin. Biotin is essential for hair, skin, and nails. A good intake of Biotin results in shiny, long, and thick hair. Baobab powder contains vitamin B6, niacin, iron, and potassium. These essential nutrients are utmost necessary in our diet. One of the major benefits of Baobab powder is that it helps in maintaining blood sugar levels. It aids in weight loss too! Those facing difficulty in breathing, irregular heartbeat, high blood sugar levels, decreased brain function, and muscle paralysis will get cured because of the intake of the liquid multivitamin over a period of time.
The liquid multivitamin provided by Juka's Organic is made available in glass bottles to preserve the liquid components present in it and to prevent the leaching of plastic in the liquid multivitamin. One of the primary reasons behind providing the liquid multivitamin in glass bottles is our concern for your health. Our liquid multivitamin contains no additives and is delicious in taste.
Overall, the best liquid multivitamin produced by Juka's Organic is tasty to the tongue and helps us stay fit and healthy. Due to the availability of the liquid multivitamin, we get all the nutrients at a time and don't need to intake several pills of different varieties of vitamins and minerals. Juka's Organic products are trustworthy and don't have any side effects. We can assure you that. Stay fit by consuming our products! https://jukasorganic.com/products/buy-liquid-multivitamin