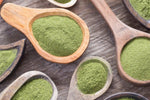 Many Africans especially in villages frequently use  Moringa Powder due to the high protein levels. Due to  its powerful nutrients, it has kept villagers that consume it nourished & healthy even with small daily food intake.  It is now particularly used in many parts of the world because of its known health benefits. As mentioned by, just with any foods you eat for the health benefits, it is most powerful  at its most natural state,  GMO free, no additives and unprocessed.
Today the Moringa Powder in the market has been sown  and grown in foreign lands. The fruits, plants and foods that grow naturally  will always have more supplements to give to the body.
Benefits of Buying Moringa Powder has many which include, high in protein, vitamin  are:
It has 24% Fiber and is a very rich source of Iron and Vitamin K & E
A good source of Vitamin A and Calcium
Best Plant Protein that includes all 9 essential Amino Acids.
Rich in Antioxidants which assist the body to fight inflammation.
Completely pure & all-natural Organic Moringa Powder with zero additives, naturally dried and sold In glass Jars
Ethically harvested by small scale women farmers that we partnered up in the villages of Africa
Best Moringa Powder from the natives of Africa
 Buy Moringa Powder for multi benefits
We recommend  taking  moringa powder post-workout since it makes the body require more water when taken. This helps  you hydrate the body and cleanse your system as required. You can mix Moringa powder into your  smoothie. Combine moringa powder to a glass of cold or hot water. To mix it properly in water, add one spoon of moringa powder in a cup and few spoons of water then mix it until it melts well then you can mix more water to dilute it appropriately. Consider visiting our website jukasorganic.com to buy Moringa Powder.