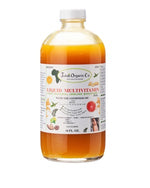 Juka's Organic Co. promised to maintain the highest quality products. Our aim is to be the premier destination for purchasing natural and organic food and beauty products imported from the heart of Africa to inspire your healthy lifestyle.
Everyone is required to take their daily vitamins or supplements. The Sugar-free liquid vitamins are readily soluble with no unpleasant aftertaste. These policies are designed for maximum absorption that the body gets the daily essential elements and multivitamins it requires.
The Sugar-free liquid vitamins improve the resistant power, with the presence of necessary supplements, Natural Zinc & Vitamin C levels in Baobab Fruit & Natural Aloe Vera.  It is the best  supplement on the market, with potent Biotin & Vitamin E & A levels, it will help strengthen hair, skin, and nails. It is a Sugar-free liquid vitamin with all-natural Noni Juice and other crucial nutrients. Juka's Liquid Multivitamin supports one of Africa's best foods, Baobab Powder which delivers natural Vitamin C to naturally make the immune system stronger. Daily consumption of our vitamins will support rebuilding cells with a complete Branched-Chain Amino Acid Complex and boost mood with Chromium, Folate, Zinc, and VITAMINS B6, B12, D3. By taking a regular dose of essential minerals and amino acids to fuel the body, it will assist in boosting energy levels. At Juka's Organic Co., give attention to your health and the environment.  Our Liquid vitamin is offered in glass bottles to avoid the leaking of plastic in your liquid vitamin and preserve the goodness in each bottle.
Our liquid vitamin is 100% sugar-free, including a daily dose of amino acids, Zinc, macro minerals, and Vitamin C, D, and E. The Zinc and Baobab fruit powder from Africa present in our liquid vitamin improves the immune system. The vitamin C in it helps with skin tightening. So, buy our sugar-free liquid vitamin from our official website jukasorganic.com.