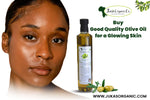 Olive oil may be a cooking staple and an essential ingredient in making healthy dishes, but research shows that good quality olive oil offers many beauty benefits. The organic extra virgin olive oil provided by Juka's Organic contains antioxidants that fight free radical damage and has an ingredient called squalene, which is extremely hydrating. It has been used for skin benefits since the ancient times of Cleopatra. From using it in the hair to exfoliating the face, olive oil has always been used in the beauty sector, yet there is still a lot to learn about its efficacy. Here are the benefits of using good quality olive oil for the skin:
The main benefit of olive oil is to moisturize the skin by reducing water loss. Especially, during the winter when the combination of hot and cold air can severely dehydrate the skin, and in the summer, heal the damaging effects of the sun. Regularly rub a few drops of good quality olive oil on your face after your skincare routine to reap its moisturizing benefits.
Thanks to the anti-inflammatory property of olive oil, it can effectively soothe skin that's irritated or affected by eczema. Buy good quality olive oil from Juka's Organic and gently massage a few drops on your skin onto the affected area.
Preventing Stretch Marks:
Olive oil is very effective in preventing stretch marks, especially during pregnancy, if applied regularly from the early stages. Rub a few drops into the skin until it completely gets absorbed to stretch-mark sensitive areas such as thighs, abdomen, etc. 
Good quality olive oil is great for breaking down waxy substances like eyeliner and waterproof mascara. With the presence of antioxidants and squalene, it will moisturize the delicate skin in the eye area, and nourish the eyelashes the same way conditioner works on the hair. While olive oil can lift off soluble residues around the skin, it does not necessarily remove all the makeup. The broken-down makeup after you have used olive oil should be wiped off with a cleanser.
The anti-inflammatory ingredients found in good quality olive oil can aid in wound healing. A compound called Triterpenes, which is present in many plant oils and in particular olive oil, aids in many biological reactions like wound healing, cell migration, cell proliferation, and collagen deposition. This compound enhances the repairing of wounds by reducing the time taken for wound closure.
Buy Good Quality Olive Oil:
Juka's Organic is proud to bring you the best quality olive oil through the help of our women farmer partners from the villages of Africa, who use authentic methods to ethically harvest the oil. Our olive oil is 100% pure, organic, unprocessed, and has no additives, flavorings, or GMOs. It is packed with vitamins E and K, essential fatty acids, and antioxidants. If you want to buy good quality olive oil, click this link: https://jukasorganic.com/products/buy-extra-virgin-olive-oil-16oz