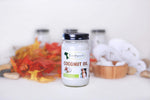 Coconut oil has been used for centuries for its amazing benefits. Particularly, the cold-pressed coconut oil, where the meat of the coconut oil is crushed and extracted by using a low temperature. This technique restores the natural qualities of the coconut and is an unrefined and pure form of coconut oil. Juka's Organic offers people cold-pressed coconut oil at very reasonable prices. Here, the coconut oil is not refined, processed, or mixed with any other oil because we don't compromise on quality. If you buy coconut oil from us, you will be getting the cold-pressed, unprocessed, extra virgin, organic, and 100% natural form of coconut oil.
The use of coconut oil is very common in different areas. Most people buy coconut oil for cooking purposes. It is miraculous oil that works on most of our health problems in some or other ways. It protects the heart by controlling blood pressure, enhances the digestive process, and helps in healing kidney infections. However, cold-pressed coconut oil has rather extra benefits if used for beauty and hair-related issues. Here are some benefits of using cold-pressed coconut oil for hair:
It Prevents Hair Breakage:
In our everyday lives, our hair has to face a lot of things like pollution, styling tools, dust, harmful chemicals or serums, and many other things. These things weaken our hair and cause hair breakage. When you buy coconut oil from Juka's Organic and regularly apply it to your hair, it forms a layer between the strands and the pollutants. Thus, it can help you with the breakage and strengthen the hair.
If you buy coconut oil in the cold-pressed form, it contains fatty acids and antioxidants that enhance hair growth. As it forms a protective layer over the scalp, it protects the roots from weakening. Regular application of cold-pressed extra virgin coconut oil will give your long hair and make your scalp healthier.
Prevents Graying of Hair:
Due to lack of nutrients, hormonal changes, stress, etc. the hair starts graying prematurely. Massaging coconut oil on the scalp enhances blood circulation and provides more quantity of nutrients to the hair that helps in preventing graying of hair.
It Reduces Scalp Irritation:
Especially during summer and dry weather, the heat causes the scalp to sweat a lot, which can result in sunburns and boils. The cold-pressed organic coconut oil of Juka's Organic has antibacterial properties that soothe the irritated and burned scalp.
Juka's Organic has partnered up with women farmers from the villages of Africa to bring you authentic coconut oil. If you want to
buy coconut oil
that is cold-pressed, unrefined, unprocessed, extra virgin, and organic, follow this link:
https://jukasorganic.com/products/buy-extra-virgin-coconut-oil