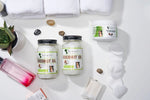 If you like homemade face Mask, then the following skincare routines are a must-try. Cold pressed coconut oil can be used as a key ingredient in natural skincare due to its many benefits. This type of oil is unrefined and unbleached, which gives you oil that has all its nutrient contents intact. Coconut oil is widely used for cooking, baking, and for hair remedies. But, not many people know that it can be combined with other natural ingredients that will help you achieve glowing skin. 
Juka's Organic provides all-natural cold pressed coconut oil that tastes like you literally blended the coconut and pulled the oil out yourself. We do not process, refine, or mix it with any other oil. We bring you 100% purest, cold pressed, extra virgin, and organic coconut oil. It is especially high in Medium Chain Triglyceride (MCT), Lauric, and Caprylic Acids that help boost metabolism and has many other health benefits. Here are a few ways that you can use our cold pressed coconut oil in your skincare routine: 
Coconut Oil and Oats Mask:

 
The combination of cold pressed coconut oil and oatmeal works especially great for people who have acne-prone skin and experience breakouts frequently. Coconut oil cures acne with its antibacterial properties and oatmeal restores the natural PH levels of the skin. 
Steps to make the Mask: 
First, mix the oats and cucumber puree together

 

Add 1-2 tbsp of water if the mixture gets too thick

 

Add cold pressed coconut oil and mix everything together

 

Apply the mixture all over your face

 

Let it sit for 15 – 20 minutes and then rinse

 
While washing off, gently massage your face in circular motions

 
Make sure you do not scrub too harshly as the roughness of the oats might harm your face. After you have rinsed, the coconut oil will leave a natural moisturizing effect on the face. 
Coconut Oil and Turmeric:

 
The face mask of this mixture is best to remove dead skin effectively and gives the skin a natural glow. It is best for the summer season to even out the tones of the skin. 
Steps to make the Mask: 
Mix 1 tbsp of turmeric powder and 2 tbsp of chickpea powder in a bowl

 

Add 2 – 3 tbsp of cold pressed coconut oil, according to the consistency you want

 

Mix all of them to form a paste

 

Apply the paste on your face, arms, and wherever tanned

 
Let it sit for 15 – 20 minutes and then wash it off with cold water

 
Juka's Organic has partnered up with women farmers of the villagers of Africa who use the traditional method of coconut oil extraction. If you want to buy our cold pressed coconut oil, follow this link: https://jukasorganic.com/products/buy-extra-virgin-coconut-oil