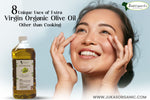 Generally, people know olive oil to be a healthy cooking oil, but it is more than that. This "golden elixir" is a versatile medium with some wonderful and interesting properties. Sure, many of us have used olive oil for baking or massaging our hair and body, but do you know that this magical oil can be put for a variety of unique uses? Here are eight genius ways you can use olive oil around your home:
Unsticking a Zipper:
If you have a stuck zipper, olive oil can be used as a lubricant to unstick it. Just take some olive oil in a cotton ball and dab it on the stuck zipper to loosen it.
Leather Accessory Conditioner:
High-quality leather tends to dry up and crack after cleaning. Conditioning your leather accessories such as sofas or shoes with olive oil after each cleaning will provide long-lasting moisture for cracked and damaged leather.
Put a Stop to Throat Tickle:
A spoonful of extra virgin organic olive oil will line your throat and stop the itchy flicker that is making you cough.
Get Rid of Tough Stains from Skin and hair:
Olive oil is excellent for removing sticky substances like paint and chewing gum from hair. Just apply some oil on the affected area and leave it for at least 10 mins and slowly take out the sticky substance with a tissue. If you want to remove tough stains like hair dye, permanent marker ink, car grease, or oil paint from the skin, mix one teaspoon of sugar with a few drops of olive oil to create a gentle but effective scrub.
Soothe Diaper rash:
Being an excellent anti-inflammatory substance, extra virgin organic olive oil effectively soothes diaper rashes. Rub some olive oil around the rash to reduce the irritation and moisturize the baby's sensitive skin.
Soothes Stretch Marks:
Extra virgin olive oil is a rich source of antioxidants and vitamin E. when you apply it on a regular basis, it helps soothe stretch marks and also gets rid of them in due course.
Prevents Hangover:
If you line your stomach and intensities with high-quality extra virgin organic olive oil before consuming alcohol, it can help prevent a hangover by slowing down the rate of absorption of alcohol.
Use As Shaving Cream:
If you are sort of shaving cream, just use some olive oil instead and shave normally. Olive oil acts as a natural lubricant and moisturizer and can protect your skin from razor cuts.
Buy High-Quality Extra Virgin Organic Olive Oil:
Juka's Organic is one of the leading suppliers of organic superfoods in the USA from the continent of Africa. Our low-acidic
extra virgin organic olive oil
is naturally high in polyphenols and packed with antioxidants, vitamins, and essential fatty acids. It is 100% pure, clean, and free from additives, preservatives, flavorings, and processing. To buy our olive oil, please click on this link:
https://jukasorganic.com/products/buy-extra-virgin-olive-oil-16oz