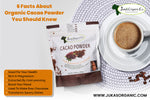 Unlike cocoa, organic cacao contains natural antioxidants, essential fatty acids, and important nutrients. It has the same taste as cocoa and is used exactly the same way, but its way healthier. The regular cocoa is roasted and then put through a process called alkalization, which changes its color, flavor, and acidity. While the organic cacao provided is made through cold-processing, without any use of additives or preservatives.
Juka's Organic's cacao powder is made from handpicked premium quality cacao from the wilds of West Africa that is smooth in texture. It is high in magnesium, vitamin C, flavonoids, iron, protein, fiber, potassium, and many other essential nutrients. Here are six facts that you should know about organic cacao powder:
It is good for your Health:
Cacao is a rich superfood with more than 300 chemically identifiable compounds. It is said to be significantly richer in antioxidant flavonols than red wine, and green tea, and is especially high in protein, calcium, iron, carotene, thiamine, and riboflavin. All these are good for the heart, brain, digestive system, blood pressure, and skin.
It is Rich in magnesium:
Organic cacao powder is one of the richest sources of magnesium. Magnesium helps in balancing brain chemistry, building strong bones, and combating depression.
It is extracted by Cold-Pressing:
Juka's Organic's cacao powder is made by cold-pressing unroasted cocoa beans. This process keeps the living enzymes and removes the fat (cacao butter), making it the most healthy substitute for cocoa or chocolate.
It can boost your Mood:
Organic cacao powder can increase the levels of certain neurotransmitters such as serotonin, endorphins, phenylethylamine (a compound that is produced when you are in love), tryptophan, and anandamide that promote a sense of well-being and elevate the mood.
It can be used to make Raw Chocolate:
Adding sugar and fat to roasted cocoa powder not only diminishes its actual chocolaty taste but is also devoid of all the nutrients that come with original cacao powder. But with cacao powder, you can make raw chocolate that will have the original taste with the goodness of all the essential nutrients.
Cacao Powder Totally Transforms Savory Dishes:
Yes, you read that right. Organic cacao powder can blend really well with sweet dishes as well as savory dishes. In fact, cacao powder is one of the important and staple ingredients in Mexico's staple sauce 'mole'.
Buy Organic Cacao Powder Online:
Juka's Organic is one of the leading suppliers of healthy superfoods and beauty products in the US. With the help of our women farmer partners, we bring you cacao powder at its purest that is unrefined, unprocessed, and 100% natural. Our cacao beans are prepared in the most authentic way, where they are fermented, dried, cleaned blended, and packed. If you want to buy the best quality organic cacao powder, click here https://jukasorganic.com/products/buy-cocoa-powder-16oz