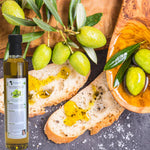 We all know extra virgin olive oil is great for cooking and salad dressing but is it also good for frying all types of food? The answer, without a doubt, is yes. Not only it is good but extra virgin olive is probably the best one for frying foods. Along with providing immense health benefits but you can use it many more times than other types of oils, including sunflower oil or refined oils.
At Juka's Organic, we provide the purest form of extra virgin olive oil that has no added flavorings, processing, or GMO, and is obtained from the indigenous lands of North Africa. Our low-acidity olive oil is rich in polyphenols, loaded with vitamins and essential fatty acids, which have the unique ability to fight off many degenerative diseases.
Apart from cooking, marinating, and drizzling, here are a few reasons why extra virgin olive oil is also great for frying:
It Can Withstand High Temperature Better:
One of the important properties of EVOO is that it can withstand temperatures of up to 180 degrees Celsius, which is far higher than sunflower or soya oils. The only concern is to be careful not to burn the oil. You can manage that by ensuring that the pan doesn't smoke. Also, you should not put the food in it if the oil is smoking hot.
It Better Preserves the Properties of the Food:
The quality of our extra virgin olive oil covers the food in such a way that it conserves the properties of the food from high temperatures. Also, it preserves the flavors much better than other oils. If you experiment, you will see that the food fried in EVOO is crispier and juicier.
It is good for the Digestive System:
When you cook with EVOO, you can see that the digestion is much lighter. This is due to the fact that EVOO produces less acidity in our stomachs than other oils. Daily consumption of olive oil has a positive influence on our digestive system, favoring bowel movement and preventing constipation.
Contains Very Fewer Fats:
Extra virgin olive oil contains less dangerous fats than other oils and also contains monounsaturated fats, which are good for our organs. This small property can help people with losing weight and tackle obesity.
Can be Used Multiple Times:
As EVOO is more stable than all existing oils, it can be reused multiple times, without compromising the quality. You only have to filter the oil after each use and make sure never to cook it over its smoke pint (180 degrees Celsius).
Juka's Organic has partnered up with women farmers from the villages of Africa to bring you the purest form of olive oil. If you want to buy the best quality extra virgin olive oil, click here: https://jukasorganic.com/products/buy-extra-virgin-olive-oil-16oz