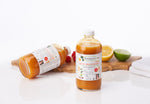 About one-third of people in this generation are advised to take multivitamins as they are not getting enough nutrients through their diet. Some people take multivitamins for the comfort of knowing that they are fulfilling their nutritional gaps, others in the belief that they are boosting their immune system, improving their brain function, and enhancing their health in general. However, physicians and doctors advise people with bad eating habits or people who need their daily nutrient intake to consume liquid multivitamins, especially kids, elders, pregnant women, and those with malnutrition conditions. But, how to know which liquid vitamin is best for you? While there are many options out there, here are some guidelines that will help you choose the best liquid vitamin:
The US Pharmacopeia Convention (USP) is an independent, nonprofit organization that determines whether dietary supplements contain all the ingredients listed on their labels. The organization uses a particular seal to verify the supplement, so do not get fooled by labels that simply use the letters "USP". Make sure the liquid vitamin you want to consume is USP verified. For additional verification, you can check for ConsumerLab, which evaluates dietary supplements for purity and contamination, and NSF International, which certifies the contents of the supplement.
Appropriate Daily Intake Ingredients:
The best liquid vitamin will have 100% of the daily value of most of its ingredients. The levels of magnesium and potassium are kept generally low to avoid drug-nutrient interactions. So, we need to get these nutrients primarily through the food we eat, and extra through liquid vitamins. Also, keep in mind that exceeding 100% of the daily content of certain nutrients is also not good, as some nutrients like vitamin A, D, E, and K can build up in the body and become toxic.
The Right Balance as Per your Age and Gender:
The need for nutrients varies according to your age and gender. For example, older adults need more calcium and vitamin D & B6, while premenopausal women require more iron. So, before choosing a liquid vitamin, consult a physician who can help you determine the specific amount of nutrients you need for your age and gender.
Essential Micronutrients:
Besides the well-know nutrients like vitamin C, iron, calcium, magnesium, and potassium, the best liquid vitamin will also include:
B6, B12, and folate

Selenium and zinc

Vitamins A (including beta carotene), E, and K

Vitamin D2 or D3
Why Juka's Organic:
Juka's Organic is among the leading suppliers of natural food and beauty products in the USA, which are imported directly from the continent of Africa. We have women farmers in the villages of Africa, who use authentic methods to retrieve our products, including liquid vitamins. Our liquid vitamin is one of the best liquid vitamins that you can get across the country that is filled with essential nutrients and provide immense health benefits. If you want to buy our liquid multivitamin, follow this link: https://jukasorganic.com/products/buy-liquid-multivitamin