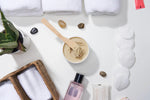 Not many of us know exactly what Shea Butter is. It is an all-natural vitamin A cream that has shown amazing moisturizing qualities along with some healing properties for the skin. Most of us have some problems related to our hair and skin. Organic Shea Butter has exceptionally large healing factors that contain essential vitamins, nutrients, and other phytonutrients, which are required for healing. The more these healing factors are present, the better the quality of the Shea Butter. In other natural oils, these healing factors are very less compared to the organic Shea Butter. This is the main reason Shea Butter is set apart from other natural products.
Juka's Organic brings you organic Shea Butter that is packed with antioxidants like vitamin E, polyphenols, and phytonutrients. Our Shea Butter is extracted without using any chemical and prepared through cold-pressed methods, without using any preservatives. Unlike refined and processed Shea butter which loses all its healing properties, Juka's Organic's Shea Butter is raw, which maintains its therapeutic abilities and healing factors.
Advantages of Organic Shea Butter:
Here are some of the advantages that you will get by using Organic Shea Butter.
For Skin:
Works as a Moisturizer:

Organic Shea Butter works as an excellent moisturizer for the face and the body. It keeps the moisture in the skin that keeps it hydrated for a longer period of time.

Treats Acne and Blemishes:

As mentioned above, organic Shea Butter has amazing healing properties, which is also effective in treating skin rashes, scars, skin peeling, stretch marks, acne, burns, frostbites, and blemishes.

Reduces Skin Inflammation:

Organic Shea Butter is beneficial for certain skin conditions. When applied to the affected areas, it can help in treating sunburns, cuts, scrapes, etc.

Restores Elasticity of the Skin:

Due to the presence of vitamin F, Organic Shea Butter helps in maintaining the elasticity of the skin.
For Hair:
Repairs Damaged Hair:

Due to the extensive use of strengtheners and curlers, the hair is stripped of its natural moisture. When applies, pure organic Shea Butter can help restore this lost moisture.

Prevents Hair Loss:

The anti-inflammatory properties of organic Shea Butter can treat scalp conditions, which helps in reducing hair loss.

Smoothes Dry Scalp:

Shea Butter is very effective in soothing a dry, itchy scalp and dandruff. The moisturizing and anti-inflammatory properties are extremely effective in providing relief from dry scalp.
Juka's Organic has partnered up with women farmers from the villages of Africa to bring you the best quality Shea Butter, which is derived from the seed of the Shea tree. If you want to buy the best African Organic Shea Butter, follow this link: https://jukasorganic.com/products/buy-african-shea-butter