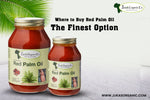 Red palm oil is a form of vegetable oil made from the fruit of the oil palm tree (Elaeis guineensis). High levels of carotenes, especially beta-carotene, and lycopene, give it its red color. In many regions of the world, especially in Africa, Southeast Asia, and parts of South America, red palm oil is frequently used in cooking and food preparation. But why is Red Palm oil so important? Here are the reasons why -
Red Palm oil has an abundance of the vital elements carotenoids (including beta-carotene and lycopene), vitamin E (tocopherols and tocotrienols), and vitamin K. These minerals, which have antioxidant qualities, are essential for preserving general health and well-being.
Red palm oil is renowned for having a high level of antioxidants. It contains vitamin E and carotenoids, which work as strong antioxidants to shield cells from the oxidative stress brought on by free radicals. This can lower the risk of developing chronic illnesses including heart disease and some types of cancer.
Saturated, monounsaturated, and polyunsaturated fatty acids are all present in a healthy balance in red palm oil. It mostly comprises healthy medium-chain fatty acids like lauric acid. When included in a balanced diet, these fats may have neutral or beneficial effects on cholesterol levels and general heart health.
Where to Buy Red Palm Oil?
Are you wondering where to buy Red Palm Oil? It's crucial to pick a reliable vendor who provides high-quality, genuine, and sustainable items when buying red palm oil. Juka's Organic Co. is one such business that stands out in the marketplace. Juka's Organic Co. provides compelling reasons to purchase your red palm oil from them due to their dedication to quality, ethical sourcing, and customer happiness. Here are some factors that make Juka's Organic Co. a dependable option for aficionados of red palm oil.
Extraordinary Quality and Legitimacy
Juka's Organic Co. focuses on making premium quality red palm oil. We take great satisfaction in offering only the best, purest, and most genuine red palm oil available. Every batch is carefully chosen from the best palm fruits to preserve the oil's original nutrients, vibrant color, and distinctive flavor. Every bottle of our product, we promise, contains the genuine flavor of red palm oil.
Juka's Organic Co. is aware of the significance of maintaining the nutritional benefits of red palm oil, which are well-known. Our red palm oil offers a natural approach to maintaining a healthy lifestyle because it is full of key nutrients, including antioxidants, vitamins A and E, and other vitamins and nutrients. It can be a beneficial addition to your wellness regimen whether it is used in cooking or as a dietary supplement.
We are dedicated to ethical behavior and sustainability. Our red palm oil comes from small-scale organic growers that use sustainable farming methods. Supporting Juka's Organic Co. helps preserve biodiversity, safeguard the environment, and advance fair trade principles that benefit regional people.
For those who ponder about where to buy red palm oil, we can say that consumer delight has always been our top priority. The rave evaluations and testimonials from pleased clients demonstrate our dedication to quality. The great red palm oil quality, quick shipping, and first-rate customer service have all received high appreciation from customers. By choosing Juka's Organic Co., you can join a group of contented and devoted clients.
So the next time you wonder about where to buy red palm oil, simply visit our store or click on the link below to get the best product - https://jukasorganic.com/collections/buy-red-palm-oil