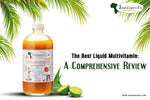 If you're searching for the best liquid multivitamin, you've come to the right place. In this thorough analysis, we'll examine the elements that can influence your choice of the best multivitamin, providing you with all the knowledge you need to make an educated choice. We have what you need, whether you want a practical substitute for multivitamin pills or just like the way liquid multivitamins taste and feel. Continue reading to learn about the considerations you should make while selecting the best liquid multivitamins.
Detailed Nutritional Profile
The quality of the substances utilized in the multivitamin should be taken into account first. Choose a product that incorporates high-quality, bioavailable vitamin and mineral formulations. Preservatives, colors, and artificial tastes should not be used in products. Various vital nutrients, such as vitamins, minerals, and trace elements, should be present in the best liquid multivitamin. Make sure that it has essential minerals, such as calcium, magnesium, zinc, and iron, as well as vitamins A, C, D, E, K, and B.
Bioaccessibility and Intake
Why are liquid multivitamins frequently favored? It is due to their easier absorption by the body as compared to pills or capsules. So, a solution that makes use of highly accessible and well-absorbed nutritional forms is what you should seek out.
High-Quality Manufacturing Norms
Select a multivitamin that has been produced under tight quality control guidelines by an acknowledged manufacturer. To make sure the product satisfies high-quality requirements, look for certifications like Good Manufacturing Practices (GMP). Avoid liquid multivitamins with a lot of added sugar or artificial sweeteners because these can negate the health advantages. The best liquid multivitamin without added sugars or with natural sweeteners.
If you have special sensitivities or dietary restrictions, check the product label to make sure it is free of common allergens like gluten, dairy, soy, or nuts. Some liquid multivitamins also come in vegan or vegetarian varieties.
Before choosing a product, think about its flavor and usability. Look for multivitamins with palatable flavors and manageable serving amounts. Additionally, think about the product's adaptability. Can you use it regularly by putting it in smoothies, juice, or water? Select a multivitamin that complements your taste preferences and works well with your lifestyle.
Added Advantageous Components
Some liquid multivitamins might also contain probiotics, omega-3 fatty acids, botanicals, antioxidants, or other helpful substances. To ascertain whether these extra ingredients meet your demands, take into account your personal health objectives and needs.
Where Can You Get the Best Liquid Multivitamin?
Juka's Organic goes on top to produce the best liquid multivitamin that includes a variety of nutrients, such as amino acids, super-foods, and antioxidants. In order to help local communities and guarantee that the ingredients are obtained ethically, we collaborate closely with female farmers in West Africa.
These organic components guarantee that their liquid multivitamin is free of dangerous pesticides, chemicals, and GMOs. Our liquid multivitamin enhances general well-being, strengthens the immune system, and fosters healthy skin, hair, and nails. Additionally, it has a delectable flavor and is simple to include in a variety of meals and beverages, offering versatility and convenience for those with varying preferences and lifestyles. To get the best liquid multivitamin as per your needs and convenience, click here - https://jukasorganic.com/products/buy-liquid-multivitamin