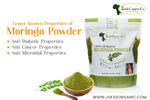 Moringa powder is derived from the leaves of the Moringa Oleifera tree. This extract of the plant is a powerhouse of nutrients and helps in promoting health, treatment, and prevention of medical conditions. Almost all parts of the tree are edible and extensively used for various benefits. The moringa powder provided by Juka's Organic is rich in vitamin A, thiamine (vitamin B1), riboflavin (vitamin B2), niacin (vitamin B3), vitamin B6, and ascorbic acid (vitamin C), potassium, calcium, iron, folate, phosphorous, zinc, and magnesium.
 The well-known benefits of moringa powder include boosting the immune system, helping with digestion, improving bone health, and promoting heart health. Here we will discuss the lesser-known properties of this incredible powder. But, before that let's go through some important nutritional facts about moringa powder:
It is low in fats
It has no harmful cholesterol
It contains 9 times more protein than yogurt
It has 10 times more vitamin A than carrot
It contains 15 times more potassium than bananas
It has 50% more vitamin C than oranges
It has 25 times more iron than spinach
Anti-Diabetic Properties:
Moringa powder has amazing anti-diabetic properties that can help cure Type 1 and Type 2 diabetes. When you take moringa powder, it can help control blood sugar levels and also aid in preventing and treating diabetes. The presence of high protein content in the moringa leaves also contributes to reducing diabetes-related ailments. Various research has been done on animal and human samples to evaluate this potential effect of moringa and the results have been positive.
Anti-Cancer Properties:
The best moringa powder such as the one provided by Juka's Organic has various anticancer compounds like niazimicin, eugenol, glucosinolates, and isopropyl isothiocyanate. Besides their nutritional value, these bioactive compounds provide many health benefits. These compounds have the ability to kill cancer cells and prevent their development. Moringa powder produces reactive oxygen species that target specific cancer cells. Thus, moringa can act as a safe, natural, and reliable anticancer agent that can provide effective results in the prevention and treatment of cancer.
Anti-Microbial Properties:
Moringa powder can also be used against many microbial diseases because of its good antimicrobial properties. Various studies have been conducted to determine the antimicrobial properties of moringa against bacterial species like Bacillus subtilis, Staphylococcus aureus, and Vibrio cholera. And the results showed that moringa had good anti-microbial effects against them.
Buy the Best Moringa Powder:
Juka's Organic is one of the leading suppliers of superfoods and beauty products in the USA from Africa. We have women farmer partners who use traditional methods to bring you the best moringa powder. You can add our moringa powder to yogurt, smoothies, or protein shakes, add it to your breakfast cereal, oatmeal, or sherbet, or mix it with milk, juice, soup, or any other cold or hot drink. To buy the best moringa powder, click here: https://jukasorganic.com/products/buy-moringa-powder