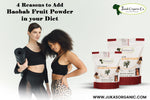 The baobab tree a.k.a the "Tree of Life" is prominent in Africa and some parts of Madagascar. Its fruit is the only fruit in the world that dries naturally on the branch. Getting baked in the sun for over 6 months, baobab fruit's prickly green, furry coating transforms into a smooth brown, coconut-like shell. Inside the hard casing of the fruit, the pulp is naturally dehydrated. This is harvested into 100% natural and organic powder that is nutrient-rich and has a wide range of health benefits.
The African baobab fruit powder provided by Juka's Organic is one of the most nutrient-dense foods that you can find in the world. Only two teaspoons contain 33% of your daily requirement of Vitamin C, offering energy release, immunity, glowing skin, etc. It has the highest antioxidant content than any other fruit and is 50% fiber, which releases its natural sugars slowly into the bloodstream. Here are some of its properties:
Antioxidants – 7,800 ORAC
Filled with vitamin C and antioxidants
Fibers - 50% by weight, of which 75% is soluble
2 times more iron than red meat or spinach
Why you should Consume Baobab Powder:
While there are many reasons to consume this superfood, here are some of the major ones:
Improves Heart Health:
Baobab fruit powder is rich in potassium, which plays a pivotal role in maintaining the body's blood pressure levels. This in turn improves the health of the heart. Additionally, the fiber content found in this powder helps in reducing the cholesterol levels in the body, reducing the risk of heart problems. Along with that baobab powder also has good anti-inflammatory and antioxidant properties, which also helps in fighting heart diseases.
Helps Prevent Cancer:
Most of the illnesses caused in our body are a result of inflammation, which can lead to many health issues including cancer. With its anti-inflammatory properties, baobab fruit powder can reduce inflammation in the body, hence reducing the risk of cancer.
Helps with Weight Loss:
If you are looking to drop a few pounds from your body, research has shown that including baobab fruit powder in your diet can be helpful. As mentioned above, the fibers in it release natural sugars slowly, which can reduce cravings and the rate of emptying your stomach, and keep you feeling full for longer hours.
Boosts the Immune System:
Due to the presence of a significant amount of vitamins and minerals, baobab fruit powder can strengthen the immune system of the body in an effective manner. The high content of Vitamin C can greatly improve the performance of the immune system preventing infections and other severe health issues.
Buy the Best Quality Baobab Fruit Powder:
We have women farmer partners in the villages of Africa who use traditional methods to bring you the best quality baobab fruit powder. You can add this powder to yogurt, smoothies, protein shakes, breakfast cereal, oatmeal, sherbet, hot or cold water, or milk, etc. To buy our baobab fruit powder, click this link: https://jukasorganic.com/products/buy-baobab-fruit-powder-16oz