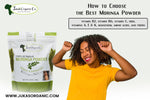 Are you looking for the best Moringa powder, but don't know how to differentiate between good and bad quality? Well, here we will discuss a few crucial points that will help you choose the best quality Moringa powder. Moringa is a versatile tree that is widely used as dietary food and medicine due to the presence of many important nutrients. The leaves of the Moringa tree are dried and made into powder, which can be stored for months without refrigeration. The Moringa powder provided by Juka's Organic is rich in protein, vitamin B2, vitamin B6, vitamin C, iron, vitamins A, E & K, magnesium, amino acids, and fibers.
Benefits of Consuming Moringa Powder:
Immunity: The high amount of iron and vitamin A present in Moringa helps keep our immune system strong. Studies have also shown Moringa to be an anti-cancer agent.
Digestion: Moringa powder is a rich source of calcium, which contributes to the normal functioning of digestive enzymes. It is also 24% fiber, which supports the digestive system and bowel regularity.
Muscle Growth: Moringa leaves are almost 25% protein, and Juka's Organic's Moringa powder contains 9 essential amino acids, which support the growth and maintenance of muscle mass.
How to Choose the Best Quality Moringa Powder:
Here are a few tricks to find out whether you are choosing the best Moringa powder or not:
Know where the Moringa is grown:
Juka's Organic works with women farmers in the villages of over 5 countries in West Africa, who use traditional and ethical methods to derive Moringa powder. As the Moringa Oleifera tree is native and indigenous to Africa, you will be the most authentic and premium quality. Our Moringa powder is 100% sustainable, washed, naturally dried, and blended into fine powder.
Made from Organic Moringa Leaves:
Using non-organic Moringa leaves to make powder will have the risk of pesticide and bacteria exposure. Non-organic growing methods will include the addition of chemicals to prevent pests and when the plant is harvested, these chemicals remain on the plant throughout the processing, which is bad for our health. So, make sure the Moringa powder is harvested ethically without any involvement of chemicals, additives, or preservatives.
Moringa powder should be the color of vibrant green. If the powder has a dull tan color or browner in general, then it's usually a sign of bad or compromised quality. The best Moringa powder should have a vibrant color, like the color of peppermint leaves.
Buy the Best Quality Moringa Powder:
Juka's Organic is one of the leading suppliers of organic superfoods and beauty products in the USA, sourced from the villages of Africa. We offer the best Moringa Powder in eco-friendly pouches that preserves its authenticity and is also good for the environment. To buy the best quality Moringa Powder, click here: https://jukasorganic.com/products/buy-moringa-powder