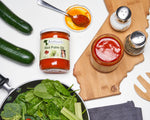 Red palm oil has been used for quite a long time by both the people and makers of beauty and self-care products. It is rich in antioxidants, vitamins, and saturated fats. It has a high amount of essential nutrients that make it perfect for our hair and skin. As red palm oil is less refined, the elimination of nutrients is very low, which makes it a good alternative to regular palm oil.
The red palm oil provided by Juka's Organic is unrefined, authentic, and 100% sustainable from Africa. You can buy different types of red palm oil from us including, capsules, soaps, cooking oil, etc. If you don't like the taste of red palm oil in your food, then you can add it to your diet through our all-natural red palm oil veggie capsules. The capsules have zero artificial preservatives, are BSE-free, and are easy to consume. Red palm oil is rich in vitamins and minerals and the following features show why most people use red palm oil for skin benefits:
How Red Palm Oil Benefits our Skin:
Red palm oil has a surprising number of skin benefits, especially with problematic skin. It has excellent moisturizing properties that make the skin supple and soft. It also contains re-fattening agents that help in restoring the skin's natural oils and act as a relief to irritated skin.
Red palm oil has an amazing anti-aging effect on our skin by reducing wrinkles when used on problem areas. It helps with blood circulation, which results in active cell regeneration. People mostly prefer red palm oil for the skin as it helps in the formation of new and healthy layers of skin.
It is Good for the Scalp and Hair Roots:
A nutritious food plan is very beneficial for your hair and skin. Your hair specifically needs fat-soluble Vitamin A and E to nourish the scalp and roots of the hair. Along being rich in Vitamin E, red palm oil also has high beta carotene content, which when consumed is transformed to Vitamin E by the body. 
Other Red Palm Oil Uses for Hair:
Red palm oil contains fatty acid that makes our hair strong. It also protects our skin and hair from the harmful UV rays of the sun. It also has a high composition vitamin E that benefits the hair by encouraging cell improvement of the hair follicles. Red palm oil also helps in reducing graying of the hair and prevents hair loss.
Juka's Organic provides authentic
red palm oil
in various forms, including capsules, cooking oil, soaps, etc. visit our official website
https://www.jukasorganic.com/
if you want to buy red palm oil products.