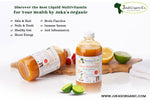 In a world inundated with health products, finding the best liquid multivitamin can be a challenging task. However, enter the world of Juka's Organic Co., a trusted brand committed to delivering the best liquid multivitamin that not only nourishes your body with essential nutrients but also does so sustainably and ethically.
Why Juka's Organic's Liquid Multivitamin?
With an abundance of health benefits, Juka's liquid multivitamin stands out and justifies being called the best liquid multivitamin.
Here are a few ways to recognize the benefits of liquid multivitamins:
Liquid makes absorption easy:
Juka's liquid multivitamin offers a unique advantage—easy absorption. Unlike traditional pill forms, liquid vitamins are quickly absorbed by the body, ensuring maximum benefits from essential nutrients. With a focus on macro and trace minerals, Juka's provides a daily dose of amino acids, zinc, and vitamins C, D, and E, contributing to enhanced energy levels and immune system support.
Abundance of Natural Ingredients:
What sets Juka's apart is its commitment to quality ingredients. Packed with natural zinc, vitamin C from Africa's superfood, Baobab fruit, and soothing aloe vera, this multivitamin supports not just overall health but also skin, hair, and nail vitality. The inclusion of Noni juice and essential nutrients ensures a well-rounded supplement that delivers on its promises.
Delicious and palatable taste:
Taking your daily multivitamin shouldn't be a chore, and Juka's ensures it isn't. With a delicious vanilla bean flavor and the goodness of Baobab powder, this liquid multivitamin eliminates the unpleasant aftertaste often associated with other supplements. The carefully crafted formula makes it a joy to incorporate into your daily routine.
Building resilience naturally:
Juka's liquid multivitamin goes beyond basic nutrition. With the power of zinc and Baobab fruit powder, it strengthens the immune system naturally. The blend of vitamins, amino acids, and minerals contributes to cell rebuilding, mood enhancement, and overall immune system support.
A Holistic Approach to Beauty:
Juka's doesn't just focus on internal health—it addresses external beauty too. The multivitamins zinc, biotin, Baobab, and vitamins A, E, and C work together to promote skin elasticity, healthy hair, and strong nails. Collagen, a key ingredient, tightens the skin, giving you a comprehensive approach to beauty from the inside out.
Supporting Gut Health
A healthy digestive system is important to keep overall well-being in check. Juka's incorporates Baobab powder, 100% noni juice, and natural aloe vera to ensure digestive harmony. With zero added sugar and a commitment to using non-GMO ingredients, this multivitamin promotes natural digestive health.
Versatile ways to include in a daily diet
The versatility of Juka's liquid multivitamin makes it easy to incorporate into your daily routine. Whether taken directly, added to water, blended into smoothies, mixed with juice, or even stirred into yogurt, the delicious taste ensures you won't dread your daily dose. The recommended dosage for adults is 2 tablespoons, while children can benefit from 1 teaspoon.
Preserving Goodness in Glass Bottles
Juka's Organic Co. goes the extra mile by selling its liquid multivitamin in glass bottles. This not only preserves the goodness of the ingredients but also eliminates the risk of plastic leaching. In a world where environmental consciousness is vital, Juka's takes a stand, showcasing its dedication to both your health and the planet.
Real reviews, real trust
Since its establishment in 2013, Juka's Organic Co. has garnered the trust of thousands of customers. Real reviews attest to the authenticity, purity, and consistency of their liquid multivitamin. Committed to providing products with no additives, Juka's stands as a trusted brand that prioritizes your health.
Ethical Sourcing: A Commitment to Sustainability
Juka's Organic Co. isn't just about delivering quality products—it's about making a positive impact. By partnering with women farmers in West African villages, Juka's ensures the ethical harvesting of ingredients like baobab powder. Sustainability is at the core of their mission, emphasizing the importance of supporting local communities.
Juka's Organic: More Than a Brand
With a history rooted in supplying premium red palm oil, Juka's Organic Co. has expanded its offerings to become a leading supplier of natural food and beauty products in the U.S.A. The brand's growth, coupled with its commitment to authenticity, has made it a go-to for health-conscious consumers seeking essential products for their bodies.
Choose us for your wellness journey:
In a market flooded with options, Juka's Organic Co. emerges as the best liquid multivitamin for those seeking a natural, sustainable, and effective supplement. With a focus on quality, taste, and environmental responsibility, Juka's stands out as a brand that not only cares about your health but also about the world we live in. Make a wise choice—choose Juka's for your daily dose of wellness.
Real Reviews, Real Results
Since 2013, Juka's Organic Co. has earned the trust of thousands of customers. Real reviews attest to the authenticity, purity, and consistency of their liquid multivitamin. The brand's dedication to delivering unrefined products with no additives sets it apart in the market.
Empowering women and sourcing sustainably
Juka's Organic Co. not only prioritizes your health but also champions ethical practices. Partnering with women farmers in West African villages, the brand ethically sources ingredients like Baobab powder. This commitment to sustainability is woven into the fabric of the brand.
A treasure trove of organic health supplements
Beyond being a trusted supplier of liquid multivitamins, Juka's Organic Co. has become a beacon for natural food and beauty products. From its roots in Gambia to collaborations with women farmers in over five West African countries, Juka's Organic exemplifies authenticity, premium quality, and sustainability.
In the crowded landscape of health supplements, Juka's Organic Co. emerges as a beacon of authenticity, offering the best liquid multivitamin your body deserves. With a commitment to natural, sustainable, and ethically sourced ingredients, Juka's is not just a brand; it's a holistic approach to wellness. Elevate your health journey with Juka's, where each glass bottle encapsulates the goodness your body craves.