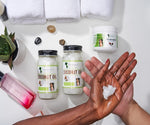 The very popular coconut oil has been used for centuries for cooking purposes, nourishing the hair, and moisturizing the skin. It offers extravagant health and beauty benefits. However, the usual store-bought coconut oil is the refined version, which doesn't pose all the amazing benefits that we know. Juka's Organic provides cold-pressed coconut oil that is made from raw coconut meat and is the best version of any coconut oil. Our cold-pressed coconut oil is gluten-free, dairy-free, kosher, and has no additives. It is particularly high in Medium Chain Triglyceride (MCT), Lauric, and Caprylic Acids that help in boosting metabolism along with many other benefits. Not only you can consume our coconut oil, there are many ways you can use it on your face to enjoy its immense benefits.
Coconut oil, especially the cold-pressed version works as a great face cleanser. To apply the oil, take a small amount of Juka's Organics' coconut oil in your palm and massage it gently on your face. Leave it for some time for proper penetration and remove the impurities from the face. Then clean your face with a cotton cloth and wash it off.
Coconut oil can moisturize the skin in an excellent way. Apply 1 – 2 drops of the oil on your face and massage it properly before going to bed. You can see the effect in the morning.
Better than many products, our cold-pressed coconut oil is a natural makeup remover. Take some cotton balls, dip them into the oil, and use them to remove your makeup. After that, clean the face properly.
Mix some of our coconut oil and brown sugar to create a good scrub. Add both ingredients in the appropriate quantities and use the mixture to scrub the face gently. Do not apply too much pressure on the face and after you are done, wash your face with a good face wash.
When you buy coconut oil and use it on your hair, it will help in avoiding hair frizzing. Only a few drops of the oil will give you smooth and shiny hair.
Not only does it moisturizes the hair and skin but also strengthens the hair as well. When you use our coconut oil on your hair on a regular basis, it will prevent hair breakage and acts as a good conditioner.
 Juka's Organic is committed to bringing you cold-pressed coconut oil from the wilds of Africa through the help of our women farmer partners. If you want to buy coconut oil, follow think link: https://jukasorganic.com/products/buy-extra-virgin-coconut-oil