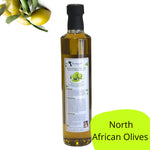 Olive oil is one of the most versatile products provided by the nature. Most of us know its common uses around the kitchen for cooking and the vast health benefits it offers. But did you know that it can be used around your household for cleaning and tidying up? Apart from the high nutritional value that olive oil carries, it can be a spare remedy time in hand. You can use it around your house for removing metal tarnish in bedrooms, bathrooms, and kitchens. Here are five astounding benefits of olive oil for everyday purposes around your house:
Remove Water Rings and Scratches:
Water rings and scratches can make the surface hard and damage the look of your floor. The mixture of olive oil and distilled white vinegar can remove scratches and tough water rings off the floors, tiles, cupboards, and wood. To bring back the original shine, prepare a perfect spray mixture along with a few drops of lemon. You can even store the mixture in your refrigerator for long-term usage.
Remove Rust:
Compounds like stainless steel are highly prone to rust and brown marks after significant usage. To remove the rust from a stainless steel appliance, put a dab of organic olive oil on a soft cloth and rub it off. This will help remove the tarnish, streaks, water spots, and corrosion. To make them shine in the end, clean off the surface with a clean cloth.
Fix the Squeaks:
It is very common to hear hinging noises from doors, windows, cupboards, and cabinets. But, you don't have to worry about it, as a few drops of olive oil on these squeaky hinges can silence them instantly.
Clear the Gumminess from Sticky Labels:
When you remove labels, they leave a sticky surface. The gummy sensation that gets left behind can take weeks to go away. In this case, organic olive oil works wonders. Just put 1 – 2 drops of olive oil on the sticky label surface after the removal. Let the oil stand still in that area for about 15 – 20 minutes and then rinse it.
Shine up your Wood and Leather Upholstery:
The shine and glory of wood and leather get lost after a few years of usage. You do not have to replace them just for their lost shine, as you can get them back with a perfect polish mixture. Add half a cup of organic olive oil to one cup of white vinegar and 2 – 3 drops of lemon juice. Spray the mixture directly on the upholstery and swab it smoothly with a soft cloth. You will see them shining back like they used to.
Juka's Organic provides organic olive oil that has many essential nutrients including vitamin E and K, polyphenols, antioxidants, essential fatty acids, etc. But, apart from the exception nutritional benefits, you can also use our olive oil for such above-mentioned household works. If you want to buy the best quality organic olive oil, follow this link: https://jukasorganic.com/products/buy-extra-virgin-olive-oil-16oz