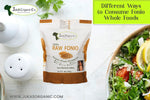 You may have spotted fonio in your nearest grocery or natural foods store, but you may not know its benefits and how to consume it. Fonio is an ancient duper-grain that has been grown in West Africa for more than 5000 years now. It is a delicious, gluten-free, low GI, and nutrient-rich grain that is the smallest in the millet family. It has a fluffy couscous-like texture and a light nutty flavor.  It can be cooked in a few minutes and used as an alternative to couscous, rice, and quinoa.
Juka's Organic provides premium quality fonio whole foods that are much healthier than all grains for a variety of reasons. Due to higher concentrations of iron, fonio helps fight Anemia. Also, the presence of folic acid and other necessary amino acids helps women during the time of pregnancy. Fonio does not cause spikes in glucose levels, keeping diabetes in check. Apart from these, fonio is a good source of zinc, phosphorous, chromium, sulfur, vitamin B1, and B3, among others. Here are a few different ways to consume fonio to reap its health benefits:
After it has been cooked and cooled, chilled fonio is a great addition to leafy salads, or can be used as a salad base itself. When tossed with dressing, it keeps well at room temperature, making it an excellent dish to take to work or on a picnic.
Cook fonio whole foods with additional water or plant-based milk to make a creamy oatmeal-like texture with a delightfully nutty taste.  You can add your desired toppings such as fresh fruits or dried fruits, toasted nuts or seeds, or any of your preferred favorite accompaniments.
Instead of water, use vegetable or mushroom stock to create a savory side dish of fonio whole foods. Use herbs and spices that you typically pair with your favorite rice dish. Sauté a bit of onion and garlic in organic olive oil first to enhance its flavor.
After your favorite soup is done cooking, add fully cooked fonio to prevent the broth from getting cloudy or the fonio from getting overcooked. Or, you can blend the cooked fonio into creamy soups for a smooth, naturally thickened base.
If you have a hard time getting enough fiber from your diet, try adding one-fourth of cooked fonio into your favorite smoothie blend. The best combination is with strongly flavored mixtures such as chocolate or spices.
Juka's Organic has women farmer partners in the villages of West Africa who use traditional methods to import their hand-selected fonio whole foods. It is sold in safe and high-quality pouches to preserve the goodness this small whole grain has to offer. Our fonio has zero preservatives, no GMO, and is unrefined. If you want to buy Fonio , click this link:https://jukasorganic.com/products/buy-fonio