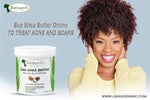 Shea butter is an exceptional organic remedy for many skin-related issues. The Shea butter provided by Juka's Organic is brought from Africa and has been known to help in the treatment of blemishes, eczema, wrinkles, burns, dermatitis, and especially acne. So, if you are tired of dealing with frustrating scars, Shea butter might be the best option for you.
Shea butter works well for acne scars because it softens the tissue and removes keloids (also a scar). It removes the bacteria that prevent further scarring while it's healing. Our Shea butter won't clog your pores and doesn't contain any chemical additives or preservatives. Here are the reasons why Shea butter works well at reducing scars:
Shea Butter Naturally Fights Keloids:
Keloids are the basic, thick raised scar tissue. Whether they are several years old or newly developed, they deteriorate the scar and make them visually appealing. Frequently using a small amount of Shea butter is enough to reduce the keloids.
It is known to Soften Acne Scars:
Scar tissues are often bumpy, rough, and unsightly. All three of these issues can be reduced by softening the skin. You probably have tried many lotions or serums to fight your acne scars, but when you buy Shea butter online from us, you can get better benefits at softening the scarred skin.
It Reduces Scar Tissue Swelling:
Sometimes scars can swell and become more apparently visible to yourself and other people. If you are worried about covering them with makeup, you will love the fact that Shea butter is amazing at lowering the old scar tissue, making it appear flush with the skin and less noticeable.
It has plenty of Omega-3 Fatty Acids:
Omega-3 fatty acids hydrate the skin and promote long-term moisturizing. With Shea butter, you won't feel rough and your scar tissue will feel just like the rest of your skin.
How to Use Shea Butter for Scars:
Buy Juka's Organic Shea butter online and scoop one tablespoon of it into a bowl. Keep stirring until it gets creamy
Add one tablespoon of our olive oil if you want a lotion texture instead of a creamy texture
Add a few drops of your favorite essential oil (such as lavender, citrus, or cedarwood oil)
Apply a small amount of the mixture to the scar. If you are using Shea butter for the first time, use a small portion on a trial basis. But, the good thing is that our Shea butter works for almost every skin type, so you won't have to worry about anything.
Use this process once per day on the scars for better results.
Buy Shea Butter Online
Juka's Organic is one of the leading suppliers of organic supplements and beauty products. All our products, including Shea butter, are made by our women farmer partners from the villages of Africa through traditional methods. To buy the best quality Shea butter online, click on this link: https://jukasorganic.com/products/buy-shea-butter-online