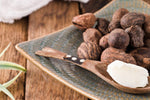 Do you want your skin to be silky smooth and silky soft? Shea butter can help with a variety of health, hair, and skin problems. Allow your regular skincare routine to take a back seat in favor of organic Shea butter if you're having skin difficulties. Shea butter is a staple in many beauty regimes, and no matter what you're dealing with, there's a good chance it'll become your new savior.
What is Shea Butter?
Shea butter is a fat made from the Shea tree's seeds. The Shea tree can be found in East and West Tropical Africa. Shea butter is derived from the seed of the Shea tree, which contains two oily kernels. Before being cooked in water, the seed's kernel is removed and ground into a powder. The butter hardens as it rises to the surface of the water.
Nutrients Available in Shea Butter
Shea butter is high in vital fatty acids and vitamins, making it an excellent source of collagen and UV protection. It has a buttery feel with 60% fat content, making it great for entering the skin. Shea butter also contains natural moisturizers that are similar to the sebaceous glands in our skin. Shea butter is a hydrating miracle for your skin because of all of this.
Why choose Shea Butter?
For thousands of years, Africans have utilized this amazing ancient butter to cure their skin. Although some of the nutrients are kept in Shea butter, the majority of it is lost during the manufacturing of items, especially when a lot of other chemicals and perfumes are used to dilute the scent and limit the amount of Shea Butter used. Shea that is unrefined, unfiltered, and raw is the best. If this is your first time using this natural butter and you don't like the aroma, feel free to add any natural scented oils to change the scent without sacrificing any of the butter's beneficial benefits.
Juka's Organic Shea butter is rich in nutrients with vitamin A, which has a lot of healing properties and has been used to treat blemishes, wrinkles, eczema and dermatitis, burns, and even stretch marks. Vitamin E, polyphenols, and phytonutrients are all antioxidants found in shea butter. Because of these components, Shea butter is an anti-inflammatory, which is why it hydrates and soothes all types of skin so well.
Is Organic Shea Butter a Better Skin Food?
Shea butter is an excellent skin moisturizer. Its specific nutrient concentration has a positive effect on the skin. It's a versatile addition to your skincare routine because it works for both dry and oily skin, protects against UV rays and sunburns, and hydrates the skin.
Is Shea butter akin to skin food? Vitamins A, E, and F are all present. Each of these vitamins is essential for healthy skin. Vitamin A keeps skin looking young, all three vitamins work together to prevent facial lines and wrinkles, and vitamin F heals chapped, dry, or rough skin.
Consider visiting our site
https://www.jukasorganic.com
to buy our
Organic Shea Butter
.