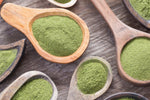 Moringa is high in antioxidants and other elements that are frequently lacking in the diets of people in developing nations.
Its leaves can be crushed into a fine powder and stored for months without refrigeration once dried. Moringa powder is also used to treat a wide range of illnesses, including malaria, typhoid fever, hypertension, and diabetes. Its positive effects are assumed to be due to the wide array of chemicals it contains.
Moringa powder is used to treat a variety of ailments. It can aid in the prevention and treatment of chronic diseases like arthritis, diabetes, and cancer. Moringa powder's health benefits are derived from its numerous plant-based components.
Health Benefits of Best Moringa Powder
Moringa powder's high protein, mineral, amino acid, antioxidant, and flavonoid content provide numerous health benefits. Moringa powder can be used to decrease pain and protect tissue (liver, kidneys, heart, and lungs).
It is packed with Vitamins and minerals
A single nutrient stands out in many of the healthful foods you consume. Best Moringa powder stands out as a superfood because it contains significant amounts of potassium, vitamin A, vitamin E, and magnesium, as well as being a strong source of iron, calcium, vitamin C, vitamin B6, and riboflavin. As a result, moringa can help with everything from vision and immunity to bone health and skin beauty.
It is a source of plant-based protein
It's not always easy to find convenient plant-based protein, whether you're a vegetarian or just trying to consume less meat. Sure, lentils and tempeh are great, but sometimes you just want a quick, no-cook addition to your smoothie bowls or soup. Moringa has a role in this. Powders prepared from its crushed leaves are high in protein—3 grams per tablespoon, to be exact—and have an advantage over legumes in that they include all of the essential muscle repair, energy production, and stress reduction all require amino acids.
It helps to protect the liver
Consider your liver to be your body's detoxifier. Moringa may help it perform better by filtering the blood, detoxifying toxins, and metabolizing fat. To begin with, moringa includes significant levels of polyphenols, which help to reverse oxidation in the liver, and preliminary study has suggested that moringa consumption can help to prevent liver damage and fibrosis.
It may reduce inflammation
Moringa has been shown to reduce inflammation in cells considerably. Moringa decreases inflammation by decreasing inflammatory enzymes and proteins in the body, as well as containing anti-inflammatory polyphenols and isothiocyanates. 
It may improve Digestion
Best Moringa powder includes about 30% fiber, the majority of which is insoluble, which is important for digestion as well as lowering your risk of disease. Moringa is an antibacterial and antibiotic plant that can help to inhibit the growth of bacteria that cause digestive disorders. Moringa's anti-inflammatory qualities have been shown to aid with digestive illnesses including colitis, and it may also benefit gut bacteria.
Consider visiting our website
jukasorganic.com
to
buy Moringa powder
.