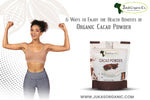 Used as a therapeutic remedy for various ailments, cacao is beloved worldwide for its medicinal benefits. Not only is this superfood nutritious, but delicious too. Its rich, chocolatey flavor makes it a popular culinary ingredient and a tasty addition to various beverages and baked goods. Juka's Organic's cacao powder is directly derived from the indigenous regions of Africa. It is organic, 100% natural, unprocessed, and unrefined. It is loaded with flavonoids, iron, protein, magnesium, potassium, and many other useful compounds.
Health Benefits of Organic Cacao Powder:
Good for heart
Reduces tiredness and fatigue
Improves digestive function
Helps with muscle growth and fitness
Keeps blood pressure levels normal
Improves brain power
Good for skin
Reduces the risk of dementia
6 Ways to Incorporate Organic Cacao Powder in Foods and Beverages
Here are a few ways you can add organic cacao powder to your diet to enjoy all its benefits:
Cacao Bar:
Probably the easiest way to incorporate cacao powder into your diet is by making a few squares of raw organic chocolate. Select a single-origin cacao bar and try pairing it with your favorite nuts for a nutritious yet luxurious culinary experience.
Hot Chocolate:
Whip up a warming, healthful beverage by mixing 1 tablespoon of organic cacao powder, 1 – 2 tablespoons of a plant-based sweetener, and a cup of milk. You can use plant-based milk such as coconut milk or unsweetened almond milk for a much healthier drink. Warm the mixture for 5 minutes on medium heat and enjoy its deliciousness.
Smoothies:
Enjoy a tasty breakfast or a snack by adding 1 – 2 tablespoons of raw organic cacao powder to your daily smoothie. You can also add a few cacao nibs to add a little bit of crunch to the smoothie.
Energy Balls:
Energy balls having cacao powder are a great way to add a nutritious boost to your daily diet. You only need a few ingredients to make these tasty snacks such as raw cacao powder, cacao nibs, cashews, dates, etc.
Baked Goods:
Take your baking game to the next level of healthiness with organic cacao powder. You can add this rich and delicious chocolatey superfood to various baked goods such as cakes, cookies, pies, etc.
Raw Brownies:
For those who are following vegan and paleo lifestyles, raw brownies are perfect for them, as they are free of dairy, gluten, wheat, and sugar. They are also very quick and easy to make as no baking is required. Swap out the general chocolate with organic cacao powder to make them healthy. You can further elevate your raw brownies by adding pecans, dates, unsweetened coconut flakes, honey, etc.
Buy the Best Quality Cacao Powder:
Juka's Organic has dedicated women farmer partners in the villages of Africa, who use traditional methods of cacao bean extraction to preserve its potency. Also, we use glass jars for packaging to maintain the authenticity of the product and environmental sustainability. To buy our
organic cacao powder
, follow this link:
https://jukasorganic.com/products/buy-cocoa-powder-16oz