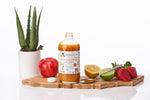 Liquid Vitamin is very helpful as it has several health advantages. Your body easily absorbs liquid vitamins. These vitamins are very flexible and easy to take as compared to pills as well as capsules. However, you must prefer liquid vitamins over pills and capsules.


The Benefits of Liquid Vitamins


There's a good reason for the development. Liquid vitamins are supremely practical, easy to swallow, and, often, quite reasonable in that you can buy one or two comprehensive formulas rather than dozens of individual nutrients in separate bottles.


Liquid vitamins are easier to break down than a hard tablet and are thus easier to absorb. While several claims swarming the internet may be unconfirmed—the most established claim being that the Physician's Desk Reference maintains that absorption rates of liquid formulas exceed pills by as much as ninety percent—assimilation is a large part of liquid vitamins' appeal. Since they are liquid, they don't need your body to, well, do a lot to break them down. Liquid iron can be a boon for those who have dealt with constipation after taking iron in a hard tablet in the past.


How to find the Best Liquid Vitamins?

Quality, packaging, additional ingredients are all major factors that determine the best liquid vitamins. 
Here's what you need to know before finding the best liquid vitamins:


Supplement Safety and Quality


The best quality liquid vitamins consider security their top concern. Keep in mind that the U.S. Food and Drug Administration regulate dietary supplements, but the rules for dietary supplements are special and less strict than those for prescription or over-the-counter drugs. Therefore, dietary supplement manufacturers don't have to demonstrate that their products are secure before putting them on the market. 


Reliable supplement brands, however, do manufacturing, test their products. All are held to precise standards. Do your research before buying liquid vitamins and be confident to go with a brand with a GMP (Good Manufacturing Practices) guarantee on the label. 


Whole foods 


The best liquid vitamins are obtained from whole foods like vitamin C from acerola. The best liquid vitamins are also sourced from certified organic products—non-GMO, synthetic, and growth hormone-free, and devoid of artificial pesticides and fertilizers. Check if it contains whole foods or not before buying liquid vitamins.


Sweeteners


When selecting a liquid vitamin, be attentive to its additives. To make a formula more edible, several include sweeteners such as corn syrup, grape juice concentrate, sugar, adapted corn starch, and maltodextrin, which can destabilize their probable health advantages. Rather, look for products that use natural sweeteners like sorbitol—a naturally occurring sugar found in apples and pears—and xylitol. Artificial ingredients like food coloring, which have been associated with adverse effects in children. 


Allergen-free


And while you are looking at that label, ensure that the product is allergen-free, meaning it doesn't enclose gluten, dairy, wheat, eggs, nuts, or yeast.


Endeavor to eat a plant-based, organic diet that's rich in vitamins, minerals as well as antioxidants. 
 
Order easily from Amazon, Walmart stores or from www.jukasorganic.com