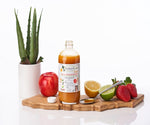 If you have lately been to a supermarket, you may have noticed a few selves or maybe a whole aisle dedicated to gluten-free products or foods such as bread, soups, cake mix, etc. You also may have noticed restaurants adding gluten-free food to their menu. So basically what is gluten-free? Gluten is a mixture of proteins, generally found in wheat, barley, oats, rye, etc.
A diet without gluten is recommended for those people who have gluten sensitivity or celiac disease. For those suffering from this disease, gluten attacks their small intestine, causing inflammation, bloating, nausea, and diarrhea. When people with gluten sensitivity eat gluten, it causes gastrointestinal irritation and symptoms similar to celiac disease.
On the other hand, some people prefer a gluten-free diet to lose weight and improve their health. But, while cutting out gluten can be a lifestyle choice for better health, you could also be cutting out some of the most important nutrients that your body needs.
Gluten-Free Foods may not Contain Essential Nutrients:
To improve your health, you may have decided to go on a gluten-free diet, but in some ways, you could be making a mistake. If you are on a gluten-free diet, you could be missing out on some essential vitamins, which could lead to their deficiencies.
Many articles talk about how the manufacturing techniques of gluten-free products may contribute to a lack of essential nutrients. They also advise that, if you are opting for a gluten-free diet, you should receive dietary counseling to know about the nutritional deficiencies associated with the diet.
According to the Gluten Intolerance Group, gluten-free products do not include essential vitamins and minerals in the same way as the usual gluten-containing products. The nutritional deficiency could cause an array of health issues. This is why, Juka's Organic provides gluten-free multivitamins that are loaded with essential nutrients such as Vitamin, C, E, D, A, B6, B12, B13, folate, essential amino acids, natural zinc, magnesium, iron, and many others.
Supplements are Necessary:
A gluten-free diet can be good for your health, but you need to make up for the missing nutrients. Many long-term gluten-free diets showed deficiencies in iron, folic acid, zinc, magnesium, and vitamin B12. Experts say that the best way to address these deficiencies is by consuming gluten-free multivitamins.
These lacking vitamins and minerals are very vital to our body's health. Vitamin B12 is essential for a healthy nervous and circulatory system, so its deficiency can make experience fatigue. Anemia is a leading cause for the lack of iron in the body. Without folic acids, the body won't be able to make new cells that keep us healthy. Even if you spend a lot of time in the sun, a gluten-free diet can reduce your vitamin D levels.
So, if you have decided to go for a gluten-free diet, you will need supplements to restore the levels of some of these nutrients. Juka's Organic offers healthy supplements, authentically derived from the wilds of Africa, with the help of our women partners. If you want the best
gluten-free multivitamins
, follow this link:
https://jukasorganic.com/products/buy-liquid-multivitamin