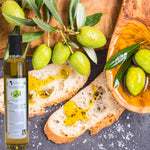 Polyphenols are chemical compounds that can be generally found in the majority of vegetables and other foods, especially in olive oil, wine, beer, chocolate, etc. They are also responsible for the smells and aromas and act as natural antioxidants. The polyphenols present in organic extra virgin olive oil have an endless list of positive effects on our health.
The quantity of the polyphenols depends on what time and the way they are harvested. The higher the level of polyphenols, the greater the health benefit for you. At Juka's Organic, we have women farmer partners from Africa who use traditional methods to produce organic olive oil. For this reason, we can say that the quantity of polyphenols you will find in our bottles is in abundance.
Benefits of Polyphenols in Organic Olive Oil:
Here are the health benefits that the polyphenols present in olive oil provide:
Antioxidants are responsible to put a brake on premature aging and benefit the overall skin health. They have great effects on the skin, especially on the cutis, which is why you will see polyphenols in many cosmetics. Polyphenols have collagen and elastin, which are responsible for the skin to stay smooth.
Polyphenols contain anti-inflammatory properties, which protect our immune system and fight off a good number of viruses. Polyphenols are also capable of generating vitamin C naturally, a vitamin that helps us not to develop illnesses.
Polyphenols in organic olive oil help in reducing cholesterol. To be more precise, they destroy the bad cholesterol and increase the level of good cholesterol. For this reason, it has been widely demonstrated that polyphenols may reduce the possibility of developing heart-related diseases.
As polyphenols have a considerable amount of fibers in them, it regulates bowel movement and prevents constipation.
Since it helps regulate cholesterol by removing the bad type, it helps reduce the risk of diabetes.
Why Buy Olive Oil from Juka's Organic:
Along with a high amount of polyphenols, the extra virgin organic olive oil provided by Juka's Organic also contains a potent amount of vitamin E & K. Our olive oil is cold-pressed, 100% pure, and has no additives, flavorings, processing, or GMO, and is obtained from the indigenous land of North Africa. Unlike the regular store-bought olive oil, we make ours in small quantities to maintain the perfect texture, decadent flavor, unique aroma, and the entire potent nutrients the oil should offer. If you want to buy the best organic olive oil, please follow this link: https://jukasorganic.com/products/buy-extra-virgin-olive-oil-16oz