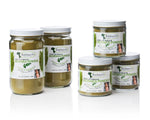 Moringa has numerous enormous nutrients and minerals. For example, the leaves have more nutrient C than Oranges and more potassium than Bananas. It also has calcium, protein, iron, and amino acids, which assist your body in healing and constructing muscle.
It's additionally packed with antioxidants, substances that can protect cells from damage and may boost your immune system. Our Moringa Powder is imported from the wild of Africa, and it has 24% fiber, nutrient K and E. Juka's Organic provides organic products with zero added substances. Buy Moringa Powder today considering its significant health benefits.
Benefits of having Moringa Powder
Treat Stomach Complaints
Moringa powder may assist treat with some stomach disorders, like constipation, gastritis, and ulcerative colitis. In addition, the antibacterial properties of Moringa may assist with inhibiting the development of different microorganisms, and its high nutrient B content help with digestion.
Helpful in treating anemia and sickle cell Disease 
Moringa powder may assist an individual's Body with retaining iron, increasing their red platelet count. It is exceptionally useful in treating and preventing anemia and sickle cell sickness.
Works as Instant Energy Booster
Your body gets energy from the food you eat, and its vast majority is utilized to fix the normal wear and tear of the cells that happen. Moringa powder is great to give you an abrupt increase in energy. It is also wealthy in iron and magnesium that help in fighting tiredness and exhaustion. We can also use it as pre and post workout smoothie.
Helps in removing toxin from the Body
Moringa powder helps in the quicker elimination of toxins from your body and supports your livers in doing so. It makes your Body more impervious to toxins, while the antioxidant helps battle free radicals to keep your system clean. 
Why should you buy Moringa Powder?
A rich source of Iron, Vitamin K & E and a source of Vitamin A & Calcium

It contains high antioxidants which help the body to fight inflammation

Contain high plant protein including all nine essential Amino Acids

100% pure natural organic powder with zero additives 

Imported from the wilderness & its native, from Africa

Simply the best Moringa powder in the market from the native of Africa
At Juka's Organic, we take great pride in sharing African foods used as natural healing foods. Our Moringa powder is pure, authentic, and unrefined.
Buy Moringa powder
today and know why our products are different from others.