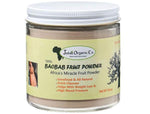 Baobab is a tree native to a certain region of Africa, baobab fruit is edible, and baobab seed powder is used in foods due to its nutrients and possible health benefits and as a natural preservative. It is a good source of antioxidants, fiber, essential vitamins, and minerals. Many people use this powder to cleanse their colon, control high blood pressure. It can also help with weight loss. People also feed this miracle powder to their children because of the high amount of vitamin C to help boost their immune system.
Juka's Organic Baobab powder is rich in nutrient goodness. It is low in sugar and fat and is extremely high in fiber. It contains more fiber than 12 minerals and nutrients yet is especially plentiful in nutrient C, calcium, iron, magnesium, and potassium.
Our Baobab Powder contains
Antioxidants
Exceptional Fiber
Magnesium- 4x the amount of most coconut water
Vitamin C
Iron-2x as much as Red meat or Spinach
Why should you use Juka's Organic Baobab Powder?
Juka's Oraganic.co Baobab miracle fruit powder is organic, unrefined, and unprocessed. Our all-women partners in Africa villages use the traditional methodology to deliver the powder from the fruit. To ensure the best and highest quality of baobab they naturally dry the fruit, also don't add any flavors.
Buy Juka's Organic Baobab powder today to experience the best baobab fruit from Africa.
Health Benefits of Baobab Powder
Here are some of the health benefits baobab powder has to offer
Heart Health
The mineral substance of this powder has been shown to lower blood pressure and boost flow; these two things will help to avoid heart disease and stroke.
Digestive Health
This powder contains both dissolvable and insoluble fiber. It is best for your digestive system. As well as managing your digestion, this powder might assist with diminishing gut inflammation to help supplement uptake.
Immune Health
This powder is wealthy in cancer prevention agents which can ensure your cells against free radical damage. This is exceptionally useful for your immune health and furthermore assists with supporting tissue development and repair.
Weight Loss
This amazing powder can help you burn more fat and lose more weight than following a healthy diet alone.
Add this powder to Yogurt or smoothies, add it to your protein shake, mix a spoonful into breakfast grain, oats, sherbet, frozen yogurt, or some high temp water with milk and a trace of nectar. Blend it in with juice or cold or heated water and drink after a meal.
Consider visiting our official website
https://jukasorganic.com/
to
buy Baobab powder
today.