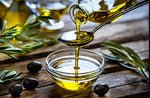 Olive oil comes from olives, which are the fruit of the olive tree. Olives are a traditional crop of the Mediterranean region, where they make olive oil by pressing whole olives. Olive oil is used in cooking, medicine, cosmetics, soaps, and as a fuel for traditional lamps. Although it came from the Mediterranean, olive oil is now popular all around the world. People eat whole olives by preserving them in olive oil or salted water. They consume olive oil as a dip for bread, as cooking oil, as drizzling on pasta, as a salad dressing, and many more. Also, some people consume it directly through a spoon for medicinal purposes.
The extra virgin organic olive oil provided by Juka's Organic is nutritious, high in antioxidants, and rich in Vitamin E & K. Our olive oil is accredited with antibacterial properties and tastes like real olive oil, as it should. The antioxidants help prevent cellular damage caused by free radicals. There are numerous health benefits of consuming extra virgin olive oil, some of which are:
It Promotes Cardiovascular Health:
Olive oil is considered good for the health of the heart. Studies have shown that people, who ate a Mediterranean diet with more than 4 tablespoons of organic olive oil, had a lower risk of developing cardiovascular diseases. But you don't have to consume 4+ tablespoons of olive oil every time to reap the benefits. In fact, the US FDA says consuming one and a half tablespoons of oleic-rich acid oils, including extra virgin olive oil, may reduce the risk of coronary disease.
It May Reduce Risk of Certain Cancer:
While there is no food or medicine created that can cure cancer completely, the consumption of olive oil is maybe one of the reasons why cancer rates are lower in Mediterranean countries. The extra virgin organic olive oil triggers changes in gut bacteria that are related to the prevention of colorectal cancer. Also, studies have shown that women who consume most olive oil have a lower risk of colon and breast cancer.
It Promotes a Healthy Immune System:
A healthy immune system is very important to avoid a cold, risk of cancer, or managing an autoimmune condition. Eating 3 tablespoons of extra virgin organic olive oil every day supported the growth and activation of T-cells, which are immune cells that attack foreign invaders. This is mostly due to the presence of high polyphenols and MUFAs in the oil. Some studies have also shown that olive oil has properties that help fight infection from COVID-19.
Juka's Organic has partnered with small-scale women farmers from the villages of Africa to bring you unrefined and unprocessed extra virgin organic olive oil. If you want to buy some, visit our official website https://jukasorganic.com/.