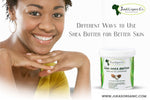 Shea butter is a fat derived from the nuts or seeds of the shea tree. It is yellowish-ivory colored, thick, buttery, and solid at room temperature. Traditionally, shea butter was used for medicinal and cooking purposes in many parts of Africa. The shea butter provided by Juka's Organic is packed with essential fatty acids and vitamins, making it a great product for collagen production and UV protection. Its unique concentration of nutrients works wonders on the skin and hair. The presence of oleic and palmitic acid in shea butter makes it an excellent source to heal anti-inflammatory issues. Here are a few ways to use shea butter:
Shea butter is amazing in transforming dry and cracked skin into healthy, moisturized skin. When applied, shea butter provides an oil-like texture to the skin, which the skin almost instantly absorbs. This helps in restoring lost moisture as well as ease skin tightness. You can use shea butter all year round. In summer, it can calm your skin after a hot day in the sun and during winter it can help moisturize the skin.
Chapped lips are everlasting issues for most people. You can use shea butter as a lip balm to keep your lips supple and soft. The moisturizing and anti-inflammatory properties of shea butter can soothe chapped lips and make them smooth and soft.
To Fight Irritation and Dandruff:
If you suffer from a dry scalp, shea butter's soothing qualities can help calm your scalp irritation. Make your hair into sections, take a small amount of shea butter and massage it onto your scalp in circular motions. You can notice the difference in a few days of regular use.
As a Smoothening Cream for Frizzy Hair:
You can buy shea butter online to combat issues like dry, dull, and frizzy hair. When you feel your hair is dry or unmanageable, use shea butter to touch up at problem spots. You can also comb the shea butter through your hair and leave it for an hour before shampooing.
If you frequently experience dry hands, then you need a good dose of shea butter. The moisturizing and hydrating benefits of shea butter can help you get rid of dry palms and make your hands softer than ever.
Buy Shea Butter Online:
If you want to buy the best quality shea butter online, Juka's Organic is one of the leading suppliers of organic superfoods and beauty products in the USA from Africa. Our organic shea butter is packed with vitamin A, antioxidants like vitamin E, polyphenols, and phytonutrients. It has been known to help in the treatment of blemishes, wrinkles, eczema, dermatitis, burns, and even stretch marks. We have women farmer partners in the villages of Africa who use traditional methods to bring you the best quality products. To buy our shea butter online, click on this, link: https://jukasorganic.com/products/buy-shea-butter-online