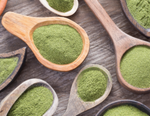 Moringa powder is produced using the leaves of the moringa tree. It has numerous science-backed advantages and medicinal usages. This superfood has been utilized as a traditional remedy in phytomedicine and ayurvedic healing for millennia.
Health Benefits of Moringa Powder
Helps in Weight Loss
Moringa is high in fiber which helps in keeping you full for more. It contains an antioxidant called chlorogenic acid that works as a natural fat eliminator and also helps in adjusting the glucose levels which is connected to your digestion. It assists with reducing glucose levels in the body which also makes it useful for diabetics.
Best for Instant Energy
Moringa powder is exceptionally nutritious and full of minerals and antioxidants. Your body gets energy from the food you eat and its vast majority is utilized for fixing the normal wear and tear of cells that happens. Therefore, moringa powder is great to provide you with an abrupt increase in energy. It is also wealthy in iron and magnesium that help in fighting tiredness and exhaustion.
Removes Toxins from Body
Moringa powder helps in the quicker elimination of toxins from your body and supports your liver in doing as such. It makes your body more impervious to toxins while the antioxidants help in battling free radicals to keep your system clean.
Improve Digestion and Gut Health
Moringa powder is loaded with fiber that manages your stomach-related functions and eases constipation. Moringa leaves also have a gentle purgative impact. Moringa is known for its anti-inflammatory properties and may help in treating stomach ulcers and diseases.
Fight Insomnia
Moringa contains amino acid tryptophan that is needed for the creation of the neurotransmitter serotonin and the sleep cycle regulating chemical melatonin. Being wealthy in protein, works as an incredible mood booster by invigorating the vibe of good hormones in the body.
Juka's Organic moringa powder is imported from the wildness of Africa, and it has 24% fiber a very rich source of iron, vitamin K &E, and is the source of vitamin A & Calcium. It is high in antioxidants which help the body to fight inflammation. Many Africans use this as a meat substitute due to the high protein levels.
Highlights of our Best Moringa Powder
A rich source of Iron, Vitamin K & E and a source of Vitamin A & Calcium
It contains high antioxidants which help the body to fight inflammation
Contain high plant protein including all 9 essential Amino Acids
100% pure natural organic powder with zero additives
Imported from the wilderness & its native, from Africa
Simply the best Moringa powder in the market from the native of Africa
At Juka's Organic, we take great pride in sharing African foods used growing up as natural healing foods. Our Moringa powder is pure, authentic, and unrefined. Buy our best Moringa powder today and know why our products are different from others.
Consider visiting our website
jukasorganic.com
to find out more information about all our products.