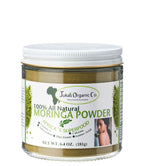 Moringa tree is a fast-growing versatile tree that is normally referred to as the African Moringa tree due to its native to the African region. It is widely used both as a food and medicine. It is rich in antioxidants and many important nutrients that are usually missing in the diet of people living in emergent countries. Almost all parts of the African Moringa tree are edible and safe to eat. When the leaves of the tree are dried, they can be formed into a fine powder known as "Moringa Powder" that can be kept fresh for several months without refrigeration. So, if you want to buy Moringa powder, then visit Juka's Organic today only. For thousands of years, this superfood is being utilized as a traditional remedy in Phytomedicine and Ayurvedic healing. Some of the amazing health benefits of Moringa powder are:
Removes Toxins from the Body:
Moringa powder supports the liver for removing harmful toxins from our body quickly. The antioxidants present in it help in battling free radicals to keep our system clean and makes our body impervious to toxins.
Moringa powder is high in fiber, which keeps us full for a longer period of time. It has an antioxidant called Chlorogenic Acid that acts as a natural fat cutter and also helps adjust glucose levels that are connected to digestion. The reduction in glucose levels in the body is also useful for diabetics.
Moringa powder contains an amino acid Tryptophan that helps in the creation of the neurotransmitter serotonin and melatonin, which is the sleep cycle regulating chemical. Also, by being rich in protein, Moringa powder works as an incredible mood booster and helps in creating good hormones in the body. As a result, it helps in obtaining natural sleep for the body.
Moringa powder is very nutritious and full of antioxidants and minerals. Our body gets the energy from the food we eat, which is majorly utilized for fixing the daily normal wear and tear of our cells. So, the extra nutrients help boost our energy. Also, the high amount of zinc and magnesium present in it helps in fighting tiredness and exhaustion.
We at Juka's Organic take pride in sharing African foods with immense health benefits. The Moringa powder we provide is pure, authentic, and not refined. So, to get all these amazing health benefits, you can buy Moringa powder  online from our website. For more details on this product and other superfoods, visit www.jukasorganic.com