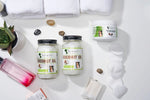 Coconut is usually found in two types – virgin and refined oil. The refined coconut oil is processed through heat and has very little coconut flavour as it is made from dried coconut. This oil is refined, bleached, and deodorized. During this process, the oil gets aerated under extreme heat and additives are added for a good flavour and longer shelf life. The Cold pressed extra virgin coconut oil is created by cold pressing the fluid from the coconut meat. The fluid contains oil, water, and coconut milk. SO, after removing the milk and water, we get a smooth virgin coconut oil that has amazing hair advantages.
Juka's organic offers its customer to buy coconut oil that is 100% natural, cold-pressed, extra virgin, gluten-free, certified organic, dairy-free with non-GMO, kosher and has no additives. Our coconut oil offers countless benefits to the human body, especially our hair. It is high in Medium Chain Triglyceride (MCT), Lauric and Caprylic acids, and many other essential components.
Advantages of Coconut Oil for Hair:
Cold pressed coconut oil has some amazing benefits for hair in many ways. Here are some of those:
It Helps Detangle the Hair:
Managing tangled hair can be irritating to some but if you buy coconut oil that is cold pressed, it can rescue your strands. Warm the coconut oil just over room temperature and gently rub it onto the lengths of your hair, starting from the roots and working upwards. You can use your fingers or a wide-toothed brush to apply coconut oil to your hair.
Dandruff is the result of a dry scalp, which is why we experience it most during dry cold weather. Also, extensive use of hair styling tools, shampoos, and conditioners can leave the scalp irritated and dry, triggering dandruff. Since the coconut oil of Juka's organic has hydrating and nourishing properties, you can use it regularly to fight dandruff. Warm some coconut oil and apply it to your hair and scalp before going to bed. Leave it overnight and wash it off the next day using a general cleanser.
From heredity to stress, there are several factors that can cause hair loss. Buy coconut oil from us to prevent thinning of your mane and restore your hair's protein. When you apply coconut oil to your hair and scalp, it deeply penetrates into your strands and strengthens the roots and fibres along the way. Massage our coconut oil into your hair and scalp and leave it overnight. Do this frequently and you can see some amazing improvements within a short period of time.
Juka's Organic Co. has partnered up with small scale women farmers from the villages of West Africa to provide our customers with their hand-selected, virgin, unprocessed, organic coconut oil. If you want to buy coconut oil, visit our website www.jukasorganic.com